Nigerians Give Their Reaction To Real Madrid Win Against PSG
Published: March 06, 2018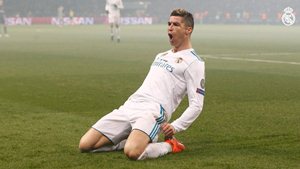 Real Madrid marched onto the quarterfinals of the UEFA Champions League after a 2-1 victory over Paris Saint Germain at the Parc Des Princes on Tuesday evening.
Cristiano Ronaldo, who was on song in the reverse fixture at the Santiago Bernabeu and Casemiro struck either side of an Edinson Cavani's effort to ensure the Los Blancos moved into the next round.
A bulk of the Nigerian followers had took to their twitter handles to reveal their ecstasy and anguish as well as encomiums pour in for the competition's defending champions.
We have culled together some of their interesting tweets and readers can read through :
@RealMadridNig : FT: PSG 1-2 Real Madrid Goals: Cristiano Ronaldo, Casemiro Assist: Lucas Vazquez Real Madrid are through to the Champions League Quarter Finals! #APorLa13 #HalaMadrid
@Man_is_Not_Hot : When Ronaldo suspends in the air, even the air hold it's breath 😀😀😀😀😀
@TheOddSolace : So, who will be PSG's next manager?
@sokohogaga : #UCL Neymar was missed today Real Madrid were wasteful Emery is an average coach Zidane coaches the Champions League team Ronaldo, oh Ronaldo, again Ronaldo
@sirberry : Haba, beru olohun naw "@Teju_____ : The difference between Real Madrid and PSG is like the distance between Nigeria and Australia."
@DaveKaptionThis : PSG can't use over 400 Million to buy Real Madrid's history and experience in the Champions league...#PSGRMA
@Tunnyking : Last season was Bayern Munich, this season PSG If you think your head is hot, Real Madrid always have a way of cooling it down #PsgRealMadrid
@omoissy : CRISTIANO RONALDO FOR REAL MADRID- 427 GAMES 437 GOALS RIDICULOUS! INSANE!! UNBELIEVABLE!! WORLD BEST!!
@That_yorubagal : Hope we have a final of Real Madrid vs Barcelona.
@OkpetimE:  Another UCL title on the horizon for Real Madrid. #HalaMadrid .
Emmanuel Chinaza
Photo Credit : realmadrid.com