CSKA Moscow Fans : It Is A Lie, We Did Not Racially Abuse Alex Iwobi
Published: April 14, 2018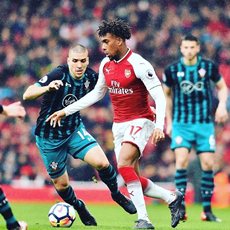 CSKA Moscow fans have denied allegations that they made racist chants at Danny Welbeck and Alex Iwobi during the Europa League quarterfinal second leg clash against Arsenal on Thursday, April 12.
Reuters had claimed citing one of their photographers that CSKA fans chanted insults of racist content against the black players of Arsenal several times and allegedly heard 'monkey sounds'.
Reacting to the allegations,
CSKA Fans Against Racism
tweeted : ''There were at least 11 people from our initiative at the game at different sectors including the ultras one. We are the first to report any racist incident in Russia but we can assure you this news is a total lie by Daily Mirror.
''Furthermore, we spoke to several English journalists after the game and no one heard anything abusive. Who is this "Reuters photographer"? It seems that "reporters" at Daily Mirror know that nobody trusts them so they try to hide behind more respectful Reuters. Disgusting clowns.
''This is an ugly attempt of those "journalists" who came to Moscow for sensational reports of fights and blood to take revenge from all of us, English and Russian fans, for peaceful and mutually respectful atmosphere at the game. They simple couldn't stand it.
''They never reported of CSKA fans hugging Gooners before the game. They never apologised for horror stories about Moscow they published because they have no honour. Now they want to put another "brick" to the Wall of Hatred they have been building for months.''
Alex Iwobi came on as a second half substitute in the 77th minute against CSKA Moscow and missed a glorious opportunity to equalize for the Gunners in the closing minutes.
Ifeanyi Emmanuel
Photo Credit  : arsenal.com