Tragedy Hits Nigerian Football, NDUKA ANYANWU dies on the pitch
Published: September 15, 2010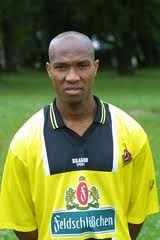 A soccer player dies on the pitch, another must be revived, and a third is in a coma. Three accidents in two days. Unfortunately one involved an ex Nigeria youth international Nduka Anyanwu. The defender collapsed and died on September 12 during a league match between his club SV Geinsheim and Queichhambach.
For 45 minutes, the doctors tried to revive him. All in vain. He was 30 years old. Anyanwu once played for the amateurs of Eintracht Frankfurt, and Dynamo Dresden.
The cause of his death is still unclear.
''Nduka was such a vivacious young and fit. The emergency physician could do nothing for him, ''
Ursula Kästel Geinsheim board member said after the tragedy.


''SG Dynamo Dresden mourns her former player Nduka Anyanwu. The Nigerian played in the 2001/2002 season for the SGD and was used 28 times. The leaders, athletes, members and fans of the SG Dynamo Dresden extends their deepest sympathy to his family, his friends and his club. And we will keep him in memory, '' Anyanwu'a former club Dynamo Dresden said in a statement.

The death on the football field is not a new phenomenon -
but medically still enigmatic.
Marc Vivien Foe collapsed in 2003 during an international match for Cameroon. The diagnosis: sudden cardiac arrest during sports. The most common cause of sudden heart failure are congenital heart defects, coronary anomalies and inflammation of the heart muscle.
2004, the Hungarian international Miklos Feher suffered in a league game for Benfica a fatal heart attack when the referee showed him the yellow card for time wasting. In front of the television cameras. Fehér was 24 years old. In the same year the Portuguese Bruno Baiao died at the age of 18.The young player of Benfica Lisbon had a week before his death two cardiac arrests - and fell into a coma from which he never awoke.
The Spanish international Antonio Puerta was only 22 years old. He had won in 2006 and 2007 with FC Sevilla the Uefa Cup. 25 August 2007, he fell during the league game against Getafe, three days later he died in hospital.