John Fashanu Advises Rohr : Go And Find More Victor Moses' In The English Premier League
Published: June 19, 2018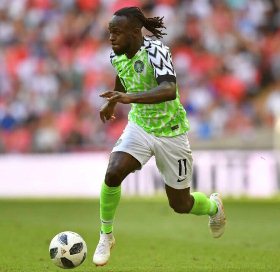 Wimbledon legend John Fashanu has noted that the Nigeria squad at the 2018 World Cup is not balanced as they have too many youthful and inexperienced players which could lead to their downfall during the tournament.
The former England international has advised Gernot Rohr to go in search of more Victor Moses to bolster his squad after the World Cup, if he remains the coach of the national team, adding that there are some players of Nigerian descent plying their trade in the English Premier League the manager is unaware of.

Fashanu has expressed regret that he chose to represent England internationally over Nigeria, and has advised the likes of Tammy Abraham, Fikayo Tomori, Dominic Solanke and Philip Billing not to follow in his footsteps.

''Even myself, I had the opportunity, sadly I couldn't get the opportunity as much as I wanted to play for Nigeria, so I opted to play for England, became the first Nigerian to play for England which is great,''
Fashanu told Channels Television.

''Now we are trying to persuade many of our players who are abroad to come back home and play for their fatherland. The mistakes that we elders made have gone and past, now let's start building.

''It is not enough to get Victor Moses and maybe Mikel Obi, we need a few more solid, older experienced players.

''Obviously, Victor Moses is an all-rounder, there is nothing he can't do, as long as that is the first name any manager should start up with, obviously Mikel Obi because he is experienced.

''That is our captain, he is an experienced man, he has played over the world, he knows what he is doing but we need more.''
Fashanu continued : ''We have them everywhere, it was difficult for people to know John Fashanu was a Nigerian when I was playing in England.

''We have wonderful players playing in the English Premier League who are of Nigerian descent. It is for the coach to do his work, go and find these players.

''The English Premier League and playing in Europe gives you an experience you cannot find anywhere else.

''Playing against Manchester United, Arsenal, Tottenham is different from playing in the local league, so it gives you an advantage. It is for the coach to go out there and start looking, so we have a nice balance.''

Brian Idowu, William Troost-Ekong, Leon Balogun and Tyronne Ebuehi are the foreign-born players in the Nigeria squad for the 2018 World Cup.
Ifeanyi Emmanuel

Photo Credit : Twitter.com/VictorMoses