Will Big Sponsorship Deals Ever Improve African Soccer?
Published: July 13, 2018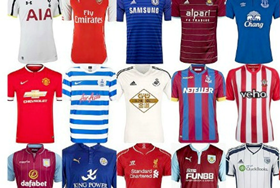 Another World Cup will pass without an African winner, with no teams from the continent able to make it through to the quarter-finals of Russia 2018.
Senegal and Nigeria headed to the World Cup with high expectations but could not get through to the first knockout round, leading to questions about the future of African football.
An African winner has long been touted but it was clear from the World Cup that there is some way to go before the continent will be able to come out on top and lift the trophy.
The news that
Morocco's bid to host the World Cup in 2026
was overlooked in favour for a North American combined effort featuring Canada, Mexico and the United States was a further blow.
Morocco will likely make a fresh bid to hold the tournament in 2030 - it has been suggested a combined bid with Tunisia could be put together - with Africa desperate to host the event again.
But until that happens, the much-needed development of football all over Africa will have to come from a range of different areas. Could big sponsorship deals help?

This needs to happen before Africa can compete
The state of football in Africa right now
When the World Cup was held in South Africa in 2010 it was touted as a landmark moment.
African football was supposed to go through a renaissance and be set on a path that would eventually see a nation from the continent crowned as champions of the world.
Today, though, that does not appear to be any closer although the likes of Egypt star Mohamed Salah and Senegal's Sadio Mane have helped to take Liverpool to the Champions League final, although they were beaten by Real Madrid, mostly thanks to a pair of Loris Karius errors.
Having individuals at the top of the game has never really been a problem for Africa, with players including Napoli defender Kalidou Koulibaly among the best in the world in their position.
Global greats such as Didier Drogba, Samuel Eto'o, Jay-Jay Okocha and George Weah have helped to build the reputation of African football through their excellence on the football pitch.
The challenge is developing standards across the board to the extent where African teams can hold on to players of this level and build teams that can grow and be successful together.
And this is where big sponsorship deals can come into the picture, with the money provided by these companies to be associated with clubs able to be used in a wide range of positive ways.
What's in it for the companies that sponsor African football?
In some cases, sponsorship is a way for companies to give something back to Africa.

Total, for example, is a leading sponsor having agreed a lucrative eight-year deal back in 2016. As part of the move, Total became the title sponsor of the Africa Cup of Nations.
Senior vice-president Jacques-Emmanuel Saulnier explained football is "central" to Africa, while the continent has also played a key role in the development of the energy company.
"We picked football because it has so much potential to bring people together. It's a universal language, synonymous with socializing, enthusiasm and, of course, energy!"
he said.
"We also identified strongly with its universality: football is without dispute a common denominator worldwide; it bridges cultures from North to South and East to West, and transcends the social divide. Anyone can play football."
As well as the Africa Cup of Nations, Total is currently the title sponsor of the CAF Champions League, CAF Confederation Cup the Total CAF Super Cup.
Sponsorship works both ways for Africa
Africa does not just want companies to invest in its football, the continent wants to invest in football in a bid to fuel its own future growth.
For the 2018-19 Premier League season, Arsenal's shirts will feature Rwanda as the country tries to bring in much-needed tourism revenue to boost its struggling economy.
Although Rwanda has faced criticism over the £30 million deal, some experts believe the deal could produce as much as 10 times that figure in revenue for the country.
Kelvyn Gardner, the head of international development at the Licensing Industry Merchandisers' Association,
told the Guardian
: "Rwanda wouldn't have occurred to me as a place for tourism, so perhaps you do need to shock people.
"What you're buying with sponsorship is brand recognition. Football can be over-monopolised by things like online gaming companies, so it will stand out."
Arsenal confirmed in a statement released on the club website that some players will visit Rwanda to hold training camps as part of the sponsorship deal.
President Paul Kagame, though, will face accusations that it is a vanity project as he has made no secret of his love for Arsenal.
Online gambling companies move in on Africa
Betting brands have sensed an opportunity in African football in the last few years.
The rise of the internet in countries such as Nigeria, Ghana and South Africa has presented an chance for one of the fastest growing industries in the world to take advantage.
In nations like those named above, many people now have smartphones that allow them to place bets while out and about and on the move, meaning they do not have to visit a bookie.
Firms such as Betway have been making investments in African football in a bid to build brand recognition, with the firm sensing its chance to make a lot of money in a developing market.
However, in Kenya there has been a change to the way gambling revenues are taxed that could then have a knock-on impact on companies that are tempted to make an investment there.
Betting brand SportPesa - which has links with English clubs such as Everton and Hull City - argued against the change to the law but they were ultimately unsuccessful.
Chief executive officer of SportPesa Ronald Karauri said the company would be forced to cut sponsorship deals as a result of the Kenya decision.
What will be interesting is to see if other African countries follow in the footsteps of Kenya and risk losing out on a lot of potential sponsorship revenues that could boost football in the region.
Igho Kingsley