FIFA Puts Super Eagles In 25th Position Out Of 32 Teams
Published: July 23, 2018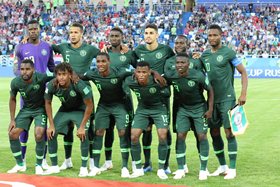 Which of the teams did you think showed some great display of football in this FIFA World Cup? We are sure many of you even bet on your favourite teams, with a
bet on soccer with Yanga.
However, now that the World Cup is over, and France perhaps the deserving winners, it is a perfect time to look back at the tournament.
As the FIFA world cup concluded its quadrennial extravaganza, new team rankings are back to the picture. France won the world cup second time in the football history and so rules the chart. Nigeria stands at 25th position.
The Super Eagles, Nigerian national team got eliminated from the group matches after losing the match with Argentina.
However, it is disappointing to see a budding team like her to leave the tournament so soon.
As a matter of fact, in the 2014 edition of the world cup, Nigeria survived until the second round. Nigeria showed some exemplary football talents this world cup.
She grabbed headlines even before the world cup for her fashionable jersey.
Going by the recent craze and infrastructural developments in Nigeria, fans expected to have a long show.
A Look at How the Teams Fared
A total of 32 teams participated in this year's world cup. Nigeria along with Egypt, Senegal, Morocco, and Tunisia was the African teams qualifying for the world cup. Among these, Nigeria's performance was most sought after.
The team boasts of having Obi Mikel as a captain who was a former Chelsea midfielder.
Victor Moses, Ahmed Musa, Wilfred Ndidi are the other players who are the regular face in several European clubs.
The Nigerian 
national team is expected
to be stronger from the next world cup. The players will have greater international exposure and also practice in this four years span.  
So, Where Did Super Eagles go Wrong?
To be fair, the team did put up a great display in their final match against Argentina, and it wasn't until the dying minutes that Argentina could finally score a goal to pull through.
This year's failure of the Super Eagles can be attributed to the lack of experience and maturity. Most players are not old enough even in the club football.
The new FIFA rankings have the first runner-up Croatia on the second spot. Belgium got the third place following her thrilling win against England.

England, which showed exemplary performance throughout the tournament dramatically lagged behind even in the third spot tournament. She stands at a fourth place now.
The Shockers were the previous world champions like Germany, Argentina, and Portugal. Portugal was able to get the fans up on their toes in the first group match against Spain.
The thrilling performance by Ronaldo projected her as a strong contender. But she lost the match against Uruguay.
The Nigerian team received the cash amount of $8 million from FIFA for participating in the world cup. Nigeria was joined by all the teams who failed to reach beyond the group stage.
Quarterfinalists got $16  million dollars while teams crashing out in the second stage got $12 million.
Ifeanyi Emmanuel