An Analysis Of Nigeria's Predictions Before The World Cup
Published: August 14, 2018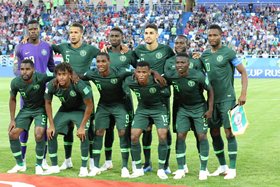 Another World Cup, another Nigeria v Argentina clash, and another disappointing showing from the Super Eagles.
In Nigeria's opening match they fell to a 2-0 loss against Croatia, a result, which in reality, flattered Nigeria.
Ahmed Musa inspired the Super Falcons to a hard-fought victory over Iceland in the second group game setting them up for an effective knock-out match against Argentina in the third and final group match.
After falling behind to a Lionel Messi goal in the 14th-minute, Victor Moses levelled the scores 6 minutes into the second-half from the penalty spot.
Despite that strike, Nigeria were unable to hold on as Marcos Rojo fired La Albiceleste to the knock-out rounds.
In this article we explore the reasons behind Nigeria's failure at the Russia 2018 World Cup.
John Obi Mikel
The former Chelsea enforcer is undoubtedly a highly gifted footballer, but it seems that he suffers from the 'best kid in the playground' effect when playing for Nigeria.
When you are by far the most gifted footballer in a group, you're often asked to perform a host of roles that don't suit your overall game.
At half-time, he was moved into his natural position and had more of an impact on the game.
However, the Nigeria management team failed to learn from this lesson and played John Obi Mikel hopelessly out of position against Croatia and Iceland,
mitigating the Super Eagles chances of victory.
Mentality
The Nigerian squad at the 2018 Russia World Cup was undoubtedly young and experienced, but unfortunately for supporters, that showed emphatically in the final game against Argentina.
After Marcos Rojo fired La Albiceleste in front,
Nigeria's players took to aimlessly firing the ball over the halfway line in hope of a late break.
A more experienced team would have re-grouped and attacked Argentina with vigour, rather than passively accepting their fate.
Predictions v Reality
In what was a topsy-turvy tournament, Nigeria managed to live up to their pre-tournament expectations – exiting at the group stage. The Super Eagles were one of the few teams to follow the pre-match predictions and wisdom.
England travelled to the semi-finals, much further than bookmakers had predicted, Croatia excelled in reaching the final
and Germany shocked in leaving the tournament in the group stage.
What next for Nigeria?
Thankfully, the one saving grace for the current squad is youth and unknown talent. As mentioned earlier in the article, Nigeria had one of the youngest squads in the tournament, and this experience should serve them well for 2022.
Having failed to turn up against Croatia, battled past Iceland and capitulated to Argentina, this squad should be able to learn the mental lessons of Russia 2018.
In Qatar 2022, this squad will hopefully have learned the requisite levels of professionalism to at least emulate the Round of 16 performance of the 2014 squad.
Igho Kingsley