Iwobi Can Blossom To Become A Real Superstar Under Unai Emery's Guidance
Published: August 23, 2018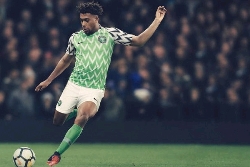 Alex Iwobi is set for a very demanding season with his English Premier League side, Arsenal having been handed a more extensive role to play under the guidance of new manager, Unai Emery.
It is often said that the things one cherish comes naturally with time and that is precisely true in the case of the 22-year-old who
signed a contract extension with the club this month
.
The qualities of the fleet-footed winger which are never in doubt are ones that can serve Emery really well if he can endeavour to induce the best out of him.

''He is a great example of a player who can succeed from the Academy through hard work and I look forward to working with him and our other talented young players in the squad.''
Though Iwobi chose to represent his country of descent rather than his adopted country, his styles of play, it must be said, are more English than Nigerian: skillful, gritty, physical and with that knack for producing the unknown, it bodes well for both parties to have him around the one of the most hallowed venue in English football, the Emirates.
Often, particularly during Arsene Wenger's reign, he has been deployed to play a number of roles for the club ranging from taking up wide positions to acting as any type of midfield anchor or even as a support attacker, a self-sacrificial task which his skill set had enabled him to interpret without much problems.
But his part has looked a bit defined this time around: the Gunners No. 17 is predominantly and better off an attacking winger and that Emery views him as.
The Hale End Academy product
got off the mark for the club this season
in the narrow 3-2 loss to Chelsea last weekend, leveling up ties in the first half with a brilliant team goal — one which you can always bank on him to provide for his team whenever things are ticking right.
The defeat was dispiriting after putting up such resilient display but then, it offers sense of good tidings that are to come for them if they can come up with such ruthless attacking verve and up their ante even when behind.
He is surrounded by top quality players the likes of Henrikh Mkhitaryan, Mesut Ozil, Alexandre Lacazette to name a few, a disposition which makes for necessary competition and that jostle for positions in every team.
While he is very much likely to mark his 100-game milestone in the colours of the club when they take on West Ham in another North London derby in the Premier League this Saturday, few would be surprised if he comes up with one from his bag of tricks to the detriment of the Hammers.
As such, punters can well back their man by registering with
BetDSI promo code
to help his team to victory with the best betting odds and amazing welcome bonuses all available for users.
Say it, not with a whisper, that Iwobi will gradually be named in the league of Arsenal's heroes past if he can build on his promising start to the post-Wenger era.
Emmanuel Chinaza