Title loss still haunts Kano Pillars
Published: September 23, 2010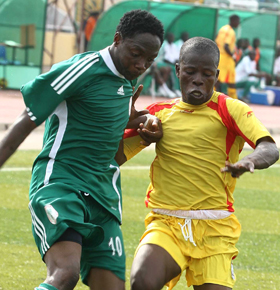 Several weeks after losing the Nigeria Premier League title to Enyimba by four points last season, head coach of Kano Pillars, Salisu Yusuf, is still pained by missing out on the opportunity of leading his side to only a second Nigerian league triumph.
Yusuf explained that he felt disappointed that Kano Pillars was closer to winning a second title in the space of three seasons before surrendering to the Peoples Elephant in Aba on the last day of the championship last term.
The former Lobi Stars' gaffer looks back at the 2009/2010 season and believes that dropping points at home also played a part in Kano Pillars failing to win the Premier League trophy.
Kano Pillars dropped four points in two home games against Dolphin Football Club (1-1) and Bayelsa United (1-1) last season.
''It was painful that we lost the league trophy last season on the very last day to Enyimba. We had the chance to have wrapped up the season but we didn't because we dropped vital points at home. I will say that I am still disappointed with missing the chance of winning the league last season because we were good enough to win that league,'' said the Kano Pillars' manager.
Now, Yusuf, who worked as an assistant to Kadiri Ikhana in the 2007/2008 season when Kano Pillars won the Premier League, said his side is ready for the coming season.
He pointed out that Kano Pillars should not be rated on its performance at the recent edition of the Super Four in Ijebu-Ode where it finished last in a four-team pre-season tournament.
''I am looking forward to the coming season. My team is very prepared to continue from where they stopped last season and we will be challenging for the league trophy this season again because we want to win it after losing narrowly last season. And I believe that the new season will be very interesting.
''Also, if anyone rates us with our performance at the Super Four recently where we didn't do well then I will say that they should have a re-think. It is going to be a different ball-game when the league starts because the Super Four we used in preparing for the team before the start of the new season,'' the Kano Pillars' stated.
At the Super Four, Kano Pillars looked jaded without the Premier League record top scorer, Ahmed Musa, but Yusuf jumped to his side's defence saying that it is not built on the strength of one-man.
He added that ''it should be noted that Ahmed Musa is a team player and he played well for Kano Pillars and scored 18 goals because we also have good players who made sure that he got the ball wherever he wanted it.''