U17 AFCON Qualifiers: Eaglets Coach Manu Garba Promises Goal-Rain Vs Niger In Semifinal Showdown
Published: September 12, 2018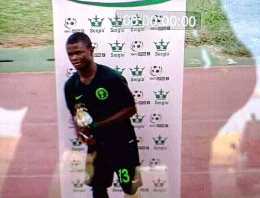 Five-time world champions, Nigeria, will take on hosts Republic of Niger at the Stade Général Seyni Kountché, Niamey in the ongoing WAFU-UFOA Zone B qualifiers for the Africa U-17 Cup of Nations.
Golden Eaglets chief coach Manu Garba has vowed that his boys will rain goals on the Ménas in their semifinal clash.

''It is true that the Nigerien team have not conceded any goal but they have not scored any goal too. They are not a bad team, they are a good team,'' Manu Garba stated in the pre-match press conference on Tuesday.
''When it comes to tactics, you don't want to expose what you are going to do against your opponents, the ninety minutes will decide.
''I must assure you that, by the Grace of God, you are going to see a very good Nigerian team that will score as many goal as possible.'''
When reminded that Republic of Niger stopped the Golden Eaglets from qualifying for the last Africa U17 Cup of Nations, Manu Garba insisted that his team cannot be stopped this time around.
''Don't forget that this is a different generation of players entirely and previously 2012, we defeated Niger 4-1 here in Niger and 6-0 in Nigeria in the qualifiers, we went to win the World Cup in UAE.

''Last year, all of us knew what happened here, I don't want to talk about officiating, so many things went their way. Here tomorrow, we have all the CAF people and everybody watching the officiating.

''I must say that I respect all my opponents, the Nigerian team is a team that can get better.

''Even as we are in Niger, our game will make the Niger people cheer Nigeria and boo Niger team because we are Nigeria and we are first in the world at U17 level. We want to maintain that standard, by the Grace of God.''
The Golden Eaglets are the top scorers in the regional qualifiers with an impressive seven goals scored in two matches against Burkina Faso and Ivory Coast, with Olakunle Olusegun accounting for three of their goals.
Ifeanyi Emmanuel