Super Eagles Fans Are All Saying The Same Thing About Ndidi After Picking Up Yellow Card Vs Libya
Published: October 17, 2018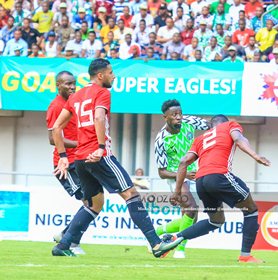 Super Eagles fans have blasted Leicester City midfielder Wilfred Ndidi after he picked up a yellow card in Nigeria's 3-2 win over Libya in Sfax on Tuesday evening, a booking that will see him miss next month's Africa Cup of Nations qualifier against South Africa.
Ndidi was one of the four Super Eagles players a booking away from an automatic one-game ban, and it was thought he had escaped a suspension only for him to be booked by referee Joshua Bondo following an altercation with a Libyan player in the 90th minute.

Super Eagles fans have voiced their displeasure with the Super Eagles number four and stressed that the yellow card could have been avoided.

Allnigeriasoccer.com has selected some of the best tweets :

@dr_spex : ''I hope Ndidi gets fined by the coach for that stupid yellow card''

@Abidemiilori : ''Unnecessary yellow card by Ndidi''.

@AchDoz_ : " In other news, Wilfred Ndidi was silly for picking that yellow card and hellnow miss the match against SA''.

@bablowsport :''Wilfred Ndidi picks up a needless yellow card and he will be suspended for next game.''

@seunbapho : ''Needless yellow card by Ndidi....... will be missed against south africa''.

@EarlFlexman : ''Very silly move by Ndidi to bag a yellow card there, now misses out on South Africa 2nd leg...''

@gihonpublicati1 : ''That was a needless yellow card collected by skillful, but inexperienced Wilfred Ndidi. He is now set to miss the crunch game against SA on Nov. 15.''

@Karonwia : ''Ndidi to miss the game thru needless mad stupid yellow card.''

@maxwellkay : ''That's a 'stupidest' yellow card at an opponent half...lol funny but Ndidi no do well''.

@gabriel_momoh : ''You have to blame Ndidi there. That is a needless yellow card to receive.''

@atiks_k : ''Very unprofessional approach by "Ndidi"....Yellow Card. He'll Miss next match....''

@midassoccer : ''Unnecessary yellow card for Ndidi to rule himself out of the next game.''

@jamaica133 : ''Needless Yellow card conceeded by Wilfred Ndidi.''

@wildkhard : ''Ndidi. That yellow card was needless. Now that's a suspension for our next game 😭''.

@osynachi_1 : ''Ndidi yellow card is a disgrace to him. Why that reaction. Misses next match #LIBNGA 2-3 FT''

@AvalonGroove : ''Needless yellow card for Ndidi there as he now misses next match! #SANGR''.

@Super_Spotter : ''Stupid of Ndidi to have conceded a yellow card for a needless foul .. Now he's gonna miss the game against South Africa next month''.
Igho Kingsley