South Africa 2 Nigeria 7 : How Super Eagles Have Fared Against Bafana Bafana In Previous Matches
Published: November 17, 2018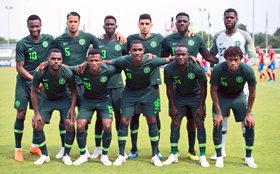 The Super Eagles will confront South Africa in their 2019 Africa Cup of Nations qualifier reverse fixture at the FNB Stadium in Johannesburg on Saturday afternoon.
Izuchukwu Okosi presents the head-to-head between the countries as Nigeria seek to book a ticket to the 2019 AFCON.
In 13 previous meetings, the Super Eagles have won seven, drawn four and lost two games against today's opponents.

1. 1994 World Cup Qualifier (10 October 1992)
The first meeting between these two sides was 10 October 1992 at the Lagos National Stadium Lagos. Nigeria won 4-0.
2. 1994 World Cup Qualifier (16 January 1993)
Few weeks after the 4-0 hiding, Nigeria were held to a scoreless draw by the Bafana Bafana in the reverse leg of the 1994 World Cup qualifiers but in the end it mattered little for the South African side as Nigeria made a debut appearance at the FIFA World Cup in the USA.
3. 2000 AFCON (10 February 2000)
Tijani Babangida was the hero and South Africa's Mark Fish was the villain on this day as Nigeria defeated the Bafana Bafana 2-0 at the National Stadium Lagos in the semifinals of the 2000 Africa Cup of Nations co hosted by Nigeria and Ghana.
4. 2004 AFCON (31 January 2004)
Another AFCON clash between the two nations and another 'routine' win for Nigeria as the Eagles coached by the legendary Christian 'Chairman' Chukwu mauled South Africa 4-0 - Osaze Odenwingie was the star man in this game with a brace.
5. Intl Friendly (17 November 2004)
Nigerian fans will desperately hope that South Africa do not have special luck on this date, November 17, as that was also the date in 2004 when South Africa defeated Nigeria for the first time - in an international friendly, a 2-1 win in the Nelson Mandela Challenge.
6. 2010 World Cup Qualifier (1 June 2008)
Nigeria gained victory over South Africa in this World Cup qualifying game and restored some wounded pride although it must be noted that South Africa's win in their last meeting was not a competitive match.
7. 2010 World Cup Qualifier (6 September 2008)
Nigeria defeated South Africa 1-0 away on this day as the Super Eagles continued an impressive run in the 2010 World Cup qualifiers.
8. International Friendly (14 August 2013)
Nigeria defeated South Africa 2-0 in an international friendly thanks to a brace from Uche Nwofor.
9. African Nations Championship (19th January 2014)

The Super Eagles beat South Africa 3-1 in the  Africa Nations Championship, a win that strengthened Nigeria's record against Bafana Bafana.
10. 2015 AFCON Qualifier (10 September 2014)
It ended scoreless on this occasion as the race for the 2015 AFCON heated up.  The Eagles at this time was very close to booking their place at the 2015. Will they? Nigerians hoped so.
11. 2015 AFCON Qualifier (19 November 2014)
South Africa denied Nigeria a win by holding the Eagles to a 2-2 draw which proved costly as the African champions eventually missed out from a place at the 2015 Africa Cup of Nations thereby failing to defend the African title they won in 2013 in South Africa.
12. International Friendly (29 March 2015)
South Africa were keen to defeat Nigeria in this friendly but it ended in just a 1-1 draw.
13. 2019 AFCON Qualifier (10 June 2017)
So the first win achieved by South Africa at the expense of Nigeria in a competitive match  came on 10 June 2017  as the Bafana Bafana defeated Gernot Rohr's 'young' Super Eagles side 2-0 at the Godswill Akpabio Stadium, Uyo.
This has given Stuart Baxter and his team some confidence that today's match can also be won - after all Uganda who the Eagles will play next in a friendly were able to get a win in a friendly against Nigeria afterwards.
Izuchukwu Okosi