Five Most Hurting Football Talents Nigeria Lost To Other Countries : David Alaba, Ross Barkley...
Published: December 07, 2018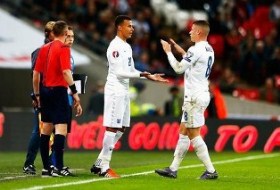 Following the efforts of the Nigeria Football Federation to convince some players born of Nigerian descent abroad especially in England like Aston Villa's Tammy Abraham, Hannover 96's Noah Bazee and Huddersfield Town's Philip Billing to switch their allegiance to Nigeria, Izuchukwu Okosi looks at the players born of Nigerian parents but who played or are still playing for other nations that could be described as perhaps the most hurting football talents more than the other similar players that Nigeria lost to other countries.
1.
David Alaba

Bayern Munich left back David Alaba is one of the world's best left backs but instead of representing Nigeria the country of his father George Alaba who got married to a Philippines woman, the player is an Austrian international.
Alaba was keen to be part of the Nigerian U-17 national team, the Golden Eaglets that won the 2007 FIFA U-17 World Cup in Korea but according to him was denied the opportunity by a top official of the Nigeria Football Federation who insisted that the team would be consisted of home grown talents.
That was the point he became disinterested in Nigerian football. Perhaps being part of the cadet side might have seen a progression through the youth ranks to the senior level for him.
2.
Dele Alli
The pocket of Nigerian fans that booed Dele Alli at the Wembley Stadium when Nigeria played against England in an international friendly in May before the World Cup expressed their disappointment that he chose to play for England instead of Nigeria.
Alli who starred for England at the 2016 Euro and 2018 World Cup has been capped 33 times for the Three Lions but would have been a mainstay in the Super Eagles had he elected to play for Nigeria.
3.
Ross Barkley
Not many Nigerians know but Ross Barkley is a Nigerian by blood as his father, Peter Efanga hails from Akwa Ibom state. Barkley however chose to play for England due to his mother being English.
The Chelsea man can comfortably play behind the striker or as a deep lying playmaker and what an addition he could have been for the Super Eagles if he had decided to be part of the Nigerian team like Alex Iwobi who is born to a Nigerian man from Onitsha, Anambra state (former Vasco Da Gama of Enugu player, Chuka Iwobi).
4.
Arnaut Danjuma Groeneveld
Recently Club Brugge midfielder Arnaut Danjuma born of a Dutch father and Nigerian mother made his debut for Netherlands in the UEFA Nations League.
That sealed his international future and ended any hopes of representing Nigeria.
For those who have never watched him play, Arnaut is special and could be part of an emerging Oranje team that seem have forgotten their disappointing  World Cup absence with superlative show in the all new UEFA Nations League that culminated in their semifinals berth where they will face England in June 2019.
5.
Emmanuel Olisadebe
Poland naturalized onetime Jasper United of Onitsha striker Emmanuel Olisadebe and paraded him at the 2002 FIFA World Cup in Korea and Japan.
That was when Olisadebe was at the peak of his career but nothing was heard about him afterwards.
Had Olisadebe played for Nigeria at that year's World Cup the Super Eagles who were without some of the country's finest players barring few stars like Austin Jay Jay Okocha and Nwankwo Kanu perhaps the team could have done better than they performed in Asia where they exited at the group stage.
Izuchukwu Okosi
Photo Credit : thefa.com