Afelokhai: My Love For Petr Cech, Enyeama, Lucky Dube, Enyimba And AFCON Hopes
Published: December 10, 2018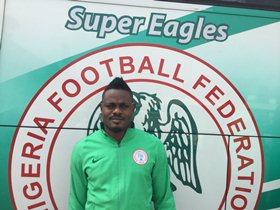 Enyimba goalkeeper Theophilus Afelokhai in this engaging interview with Izuchukwu Okosi speaks on a wide range of issues regarding his club, the Super Eagles, CAF club competitions and his love of the late Jamaican reggae icon Lucky Dube. Excerpt...
You were recently invited for Nigeria's games against South Africa (AFCON qualifier) and Uganda (friendly) as replacement for the injured Francis Uzoho. How did you feel knowing that you were only getting into the team as a result of Uzoho's ill luck?
''I was pleasantly surprised when I heard that I was called up as a replacement for Uzoho. I first gave thanks to God Almighty because I'm not the only good goalkeeper in Nigeria. I give thanks to the coaches and players as well for receiving me and making me feel belonged to the team.''

But your fans had been wondering why you never got into the Eagles long before Uzoho's injury. You had been in fine form...
''I was not doing badly for Enyimba in the CAF Confederation Cup but I believe its just God's time that I come into the team at this time. It came and I intend doing well anytime I'm invited to the national team. I believe that God who made it possible will continue to protect me and my fans. They should continue praying for me. I hope to be part of the AFCON squad in 2019. I will continue to work hard surely.''
Talking about doing well for your club, no Nigerian club has matched the feat achieved by Enyimba in the CAF Champions League by winning it in 2003 and 2004. How can Nigerian clubs win the title (s) in Africa again?
''Nigerian clubs have been close to winning it before Enyimba achieved it but our clubs can still attain that feat with the support of Nigerians and management of the clubs. As Lobi Stars and Enugu Rangers are representing Nigeria in the CAF club competitions, they need the support of the management. They can achieve it if they're professional and treat the players the way its supposed to be because being in a competition you know what it means. That's why north African teams do well.''
Who was, or is still your goalkeeping hero?
''There are a lot of goalkeepers in this country and of course as a goalkeeper we all look look up to someone. Vincent Enyeama was my mentor despite having played in the NPFL. I love Petr Cech in Europe. They were goalkeepers that I learned a lot from.''

Have you ever had disagreements with a goalkeeper trainer or fellow goalkeepers in trainings?
''I don't think disobeying your trainer will make you a great keeper. I have also not had issues with my teammates. We respect each other a lot. You need to be humble and learn from your goalkeepers trainer. I've once been a captain so I lead by example. The goalkeeping position is one you have to bring your head down and learn from those who have been there and done it before you. You improve your skills and gain more confidence.''

Can you tell us your toughest game at Enyimba and the striker that you don't like playing against?
''Well, every game brings its own challenges. Of course as a goalkeeper, there are goals you concede that you can't do anything about. You may be excellent on a day and make 99 saves but one error could ruin all your efforts and make you look stupid. Nobody is perfect but we work hard in trainings so that we can get better. I have played against so many good strikers so I'll not be able to mention any specific names. ''

When you're not playing, how do you relax, and what kind of music do you listen to?
''When I'm not playing, I spend a lot of time with my family. I love my family. They make me happy, they pray for me. We joke together, go out together. Sometimes I sleep in my children's room. When I retire from the game, I will spend more time with my children because daddy is always traveling. My family members, my extended family that is, supported my choice of career. My parents are alive. My siblings are civil servants. God is using me to be there for them. And also them for me. ''
Thank you Theo for your time
''It's my pleasure. As for music, I listen to songs from my tribe, Edo state. They inspire me. I also love the songs of Lucky Dube a lot. ''

 Izuchukwu Okosi
Photo Credit : thenff.com