Kanu Tips Super Eagles To Win 2019 AFCON, Tasks Players On CAF Awards,Thumbs Up Present Stars' Commitments
Published: January 16, 2019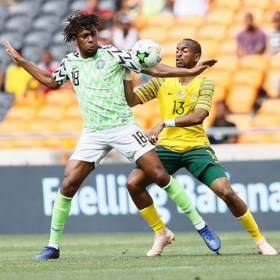 Former Super Eagles captain Nwankwo Kanu has sensationally tipped Nigeria to win the 2019 Africa Cup of Nations in Egypt.
The 1996 and 1999 African Footballer of the Year winner also charged Nigerian players to redouble their efforts this calendar year so that they are not overlooked in the African Team of the Year after being shunned by the team picked by FIFpro.

"We keep praying that 2019 will be better than 2018. But we have to celebrate our heroes while they're alive. That reminds us of the late Stephen Keshi, Amodu Shuaibu, Samuel Okwaraji, that's why the women's teams seem to complain. Let the 'female' teams do better than they have done before in previous World Cups," Kanu told Brila FM.
"As for the Super Eagles I hope they win the Nations Cup, that's what I tell people. The players are making me happy - Mikel Obi, Alex Iwobi and others are playing well, that's why I'm not panicking. I can't start pinpointing any players' names. I believe they're going to win the 2019 Nations Cup.
"The future is bright (for the Super Eagles). We have players playing week in and out there in Europe," Papilo stressed.
Speaking on the commitment of the present Super Eagles team players, the former Arsenal, Portsmouth and West Bromwich Albion striker thumbed up the strides of the players.
"I don't think so (current players not committed like the Eagles of the 90's). I've been with the boys and I know they really want to do their best and working hard because remember its not only for the country but for themselves first.
"Its not going to be the same with our set (class of the 90s). The pressure from the fans was on us. We cant even draw during my playing days.
On the absence of Nigerian players from any of the individual prizes during the CAF awards in Dakar, Senegal, Kanu stated:
"You know I was not going to feel happy that none of our players win knowing where I'm coming from. What I mean by that us that we ought to have three or four players in the CAF team of the year."
The Eagles will play a dead rubber in the AFCON qualifiers again Seychelles on March 23 before facing the 2019 AFCON hosts Egypt in a friendly both at the Stephen Keshi Stadium, Asaba.
Izuchukwu Okosi