Right2Win Sports Academy Secures The Services Of Award Winning Intermediary, Eddie Ogbemudia
Published: February 05, 2019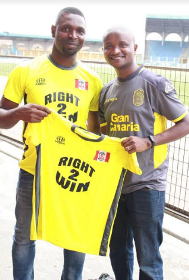 In a quest to run the affairs of Right2Win Sports Academy professionally, the outfit have sealed a deal With Myron Topclass Sport Outfits' intermediary Mr. Eddie Iseri Ogbemudia to represent the academy in all issues of players transfer and other contractual conditions with other parties.
Speaking to newsmen after the dotted lines were signed, Mr Kelechi Nnorom Chairman Right2Win Sports Academy spoke on his excitement on bringing the experienced intermediary to his fold.
"You know football business is huge and if you really want to grow you need to engage professionals that share in your dreams, I've made my background checks and Mr. Ogbemudia met all the conditions I was looking for, I pray our partnership will yield a lot of fortune for both parties".
In his own remarks, Mr. Eddie Iseri Ogbemudia said "I give glory to God Almighty for where He is taking me, you know they say the reward for hard work is more work, so myself and my team at Myron Topclass Sport Outfits are equal to the task, when you do your business with high level of professionalism, integrity and honesty with God on your side you don't need to advertise to attract your clients."
"I commend the management of Right2Win Sports Academy for choosing me despite having almost 200 licensed intermediaries in Nigeria, and immediately after the deal was signed our sport Outfit secured friendly games against Warri Wolves and Sapele Lions, which has generated some transfer of the academy players to these NNL sides."
"Recently we also sealed a representation contract with Rivers United FC Workaholic midfielder Ogar David, he is the most recent footballer signed under our management." Ogbemudia concluded.
Bayo Adegboyega