NPFL Transfer Window 2: Agent Reveals The Three Key Players Likely To Change Clubs
Published: February 12, 2019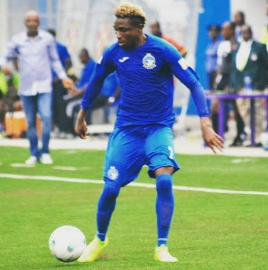 Ahead of the commencement of the second transfer window of the season as announced by the Nigeria Football Federation, scheduled to open on February 15, 2019, some key players in the Nigeria Professional Football League are on the verge of changing clubs.
In a chat with NFF Registered Intermediary Mr. Eddie Iseri Ogbemudia, he said "considering the current position of some clubs in the league, they will fancy going to the market to beef up their squads either to avoid relegation or fight for a play off spot''.
When asked specifically if any of the players under his management will be moving, he said : "I will be unable to make a definite statement, though
Omofoman Freedom
of Enyimba handed the team a transfer request due to lack of playing time, you know footballers, they want to be on the pitch always to do what they know how to do best, we are still hoping to hear from the club's management if they will agree to release him even if it's a loan switch for the remainder of the season.
''Dimgba Stanley
seems the most likely to leave Enyimba, since Enyimba couldn't fulfill the contract renewal conditions, the player who is so committed to the club is so disappointed with the management of Enyimba  having failed to honour the contract renewal conditions and may likely move elsewhere if the situation is not savaged soon.
''Joseph Osadiaye whose contract expires at the end of the current season will stay until the end of the season to see out his contract unless an offer too good to resist comes up.
''The situation is not different in Rivers United where
Drissa Bamba
may likely be joining Akwa United or Lobi Stars over breach of his transfer agreement by Rivers United, in the coming days we will initiate the withdrawal of his services from Rivers United FC, it's so unfortunate that clubs in Nigeria don't honour contracts and don't care about the consequences.
''Ekene Olisema is just like Joseph Osadiaye. His current contract expires at the end of the 2018/2019 season, the Nigerian Under 20 central defender is currently focused on helping Lobi Stars progress in the CAF Champions League and fight for a slot in the NPFL playoff showdown, maybe at the end of the season we will sit down and plan his future. This will not be difficult in settling the lad I call commander of defense affairs, he has been attracting a lot of interest from major European clubs.
''New kid on the block striker Eluwa Chinatu Israel of Right2Win Sports Academy and Ezekiel Idowu of Sunsel FC will be joining NNL side Warri Wolves FC on a season long loan moves to propel the Seasiders for their promotion quest to the NPFL.
''For now those are some of my clients that may be in the news as per transfers during the second transfer window opening in Nigeria February 15th 2019''.
Bayo Adegboyega