Why Rohr is Right Over His Decision To Shut The Door On Uduokhai Et Al Ahead Of AFCON
Published: April 01, 2019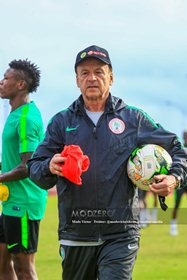 Allnigeriasoccer.com
reported last week that Super Eagles manager Gernot Rohr won't add new faces to the team while compiling his squad for the upcoming AFCON tournament in Egypt.
This means that Nigerians' hope of seeing German-born youngster Felix Uduokhai play for the Super Eagles at the competition has been dashed.
The Wolfsburg centre-back has been one of Rohr's longtime target before the 2018 FIFA World Cup but it's a surprise when the gaffer revealed to newsmen that he won't consider him and other Nigeria-eligible players in his preliminary list for AFCON.
Is Rohr making the right decision to deny new players the chance to compete for places in his team even when we're three months to the much-anticipated competition?

This is one question coming into the minds of many Super Eagles supporters.
Rohr's move to block new player's inclusion in his team is a proof that the Franco-German manager is happy with the level of competition among the players at his disposal, hence, he doesn't want to add more to it.
Rohr's current crop of players share great synergy and chemistry which will help the three-time African champions have a great outing in Egypt.
Adding new players to the team, with just three months to the tournament, might harm the chemistry and unity in the camp.
The likes of Uche Agbo, Anderson Esiti, and Uduokhai, if he decides to dump Germany for Nigeria, are still young and still have another opportunity to  be in the team in the future.

They only need to maintain their fine and consistent performances for their respective clubs.
There is no need having too many players in a preliminary squad, considering the fact that only 23 or 24 players will make the final cut.
Rohr's decision to close the door on new invitations gives him the best chance to focus on every player during the preparation for the tournament.
Ibukun Italoye