Nigerians React As Two-Time World Cupper Odemwinge Calls Time On Football Career
Published: April 04, 2019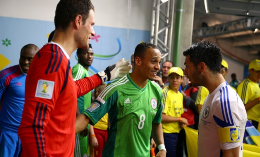 Former Nigeria international Osaze Odemwingie has announced his retirement from active football at the grand age of 37.
The striker made his decision to hang up his boots public at the UEFA Equal Game Conference at Wembley on Wednesday, and this has drawn reactions from Nigerians who held him dear during his playing days.

Osaze represented Nigeria at four AFCON tournaments and two World Cups, scoring 10 goals in 63 appearances for the Super Eagles since debuting in 2002.
English sides Stoke City, West Brom, Cardiff City and Rotherham United are some of the clubs he turned out for during his stint in the English Football League.
Below are some of the tweets from the Nigerian faithfuls following his retirement..
@yusadebayor: Happy retirement bro. Thanks for the #memories.
@stamford4: Legendary enjoy 😉your retirement.
@Ifeayobami: You deserve more bro... thanks for the Goal against Bosnia...world Cup 2014.
@SayeedAhmed: Enjoy your retirement, bro👊.
@SanniOlanrewaju: Have a nice tym, bro.
@iam_aponbaba: You're blessed bro..... Enjoy the rest of your life🇳🇬
@theRealBishopKP: God bless the King👊.
@chidi_maestro: Big thank you to Osaze Odemwingie @OdemwingieP It's been an incredible 19 year career on the pitch! 😍💝You've given us lots of special moments that will last a life time!
@derek74399105: That goal in Abuja stadium against Tunisia ....I think the match ended 2-2 .. Afcon or 2010 WC qualification match ..can't remember anymore ..tension soaked day ..God bless Odemwingie 👌.
@olajahide: Revelation of 2004.
@deji_online: Osaze Odewingie was a star in his own right.
Emmanuel Chinaza

Photo Credit : fifa.com