Arsenal Must Improve Away Form To Boost Top Four Hopes
Published: April 08, 2019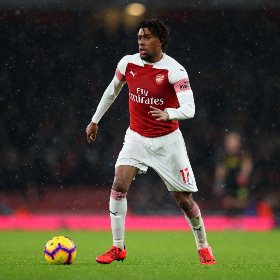 The battle for top four places which guarantees European football is getting more fierce in the English Premier League.
On Sunday
Arsenal were defeated 1-0  by Everton
at Goodison Park which is threatening to derail their aspirations.
The Gunners are fourth on the table but are only there on goal difference above Chelsea.
Had they won their chances of finishing in the top four would  have been greatly enhanced - but that is danger of being ruined.
Unai Emery has already accumulated more points than Arsene Wenger did throughout last season but all that  may soon be forgotten if Champions League elude them next season.

The much maligned Wenger once proclaimed that fourth place was like a trophy and he was almost loathed for that by both his supporters and neutrals alike.
The North London club have four more away games to play out of six left for them this season but they are against teams fighting for European places in the Europa League: Wolves, Leicester and Watford. Even Crystal Palace won't be easy opponents to navigate.
These players must rise to the challenges ahead and be better on the road like
Odds USA
who have a magnificent worldwide appeal not just in the United States where they are domiciled.
The importance of a top four position include massive UEFA financial backing, plus the windfall from the Premier League and ability to attract some of the best players on the planet.
Arsenal have fans all over the world  and it will be almost catastrophic to miss out of the elite  football club competition. The club is one of the most followed by avid betters.

Centre back Sokraris according to many tabloids in England on Monday insists that the away form is not a mental block and believes they will come around.
That must start changing when they face Watford next Monday. Watford have confidence on their side following a 3-2 win over Wolves in the semifinals of the Emirates FA Cup.
Some
Gunners fans in Nigeria were not pleased
with Alex Iwobi's bench role in the loss to Everton and it remains to be seen if the Nigeria international will return to the starting line-up against the Hornets.
Whatever the outcome of their campaign, Unai Emery has had a promising start in his Arsenal career but it just beggars the question if the club would ever be accorded that respect as one of the biggest sides in England  let alone in Europe.
This is their chance.
Izuchukwu Okosi
Photo Credit : arsenal.com