Rohr Explains Why He Watched Bordeaux Vs Marseille; Kalu's Two Key Attributes
Published: April 11, 2019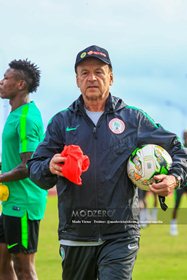 Super Eagles coach Gernot Rohr has admitted that he was on a scouting mission when he witnessed the Ligue 1 match between Bordeaux and Marseille last Friday but unfortunately Samuel Kalu was not in action after failing to recover from a hamstring complaint.
The German is highly regarded by the powers that be at Bordeaux as he played for the club for more than one decade and also previously managed the side, helping them reach the final of the UEFA Cup in 1996.

''I came to see Bordeaux-Marseille as a supporter of Girondins, which will remain the club of my heart,''
Rohr told Gold FM via gironndins4ever.com
''I spent 21 years in the club, I gave everything and I keep only good memories. I also came to see one of my players playing with Nigeria, Samuel Kalu, but he did not play.
''It was also necessary to keep in touch following the problems he had with his mother recently. We were together for several days, we tried to find the solution.''
Barring an injury, Kalu is set to be named on the Super Eagles roster for the 2019 Africa Cup of Nations, and Rohr has highlighted two of the winger's key attributes.

Rohr said : ''He is an excellent player, for us he is very important. Whether he is playing right or left, or in a 3-5-2, he has always been one of the best with Nigeria.

''I think he will still bring a lot to Bordeaux, his speed above all is good for this team, but also his intelligence in the game''.

Ifeanyi Emmanuel