Nigeria vs Uganda : Three Things Garba's Boys Must Do To Defeat The Young Cranes
Published: April 20, 2019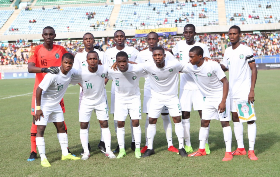 Many Nigerians celebrated the Golden Eaglets' 1-0 victory against Angola on Wednesday thinking that the team had qualified for the U17 World Cup, only to realize that there's still a hurdle for the young lads to cross and that's Uganda.
Manu Garba's boys have been in fine form since the start of the tournament, they've won all the matches played so far but they can't afford to lose their guard at this point.
As much as today's game isn't a must-win one for the West African side, they must aim at getting the maximum points.
Allnigeriasoccer.com
takes a look at three things the team must do in today's clash if they must put the Young Cranes to the sword.
They must take Their Chances
Creating goalscoring chances isn't a problem for the team but they lack ability to convert them into goals.
Amoo, Ubani and Oluwasegun must stop being wasteful in front of goal because the team could pay for any missed opportunity at the end of the encounter.
Defenders and Goalkeeper Must Be On Top of Their Game
Nigerians saw an improved defensive display against Angola last Wednesday when compared to their first  game of the competition in which they conceded four goals against Tanzania.
The boys must continue to improve their game at the back as the tournament progresses. Nonetheless, they need to put up a great showing at the back of the pitch to prevent Uganda's deadly strikers.
Manu Garba Must Control the Psychological Aspect Of His Boys
Garba must let his young players know that a point is all that is needed in this game, hence, they shouldn't be too emotional if goals doesn't come as early as possible.
The experienced manager must be at the stands to control the psychological aspect of his players so that they won't loss concentration during the game.

Ibukun Italoye