Iwobi: Chelsea Not Our Priority But Valencia In UEL, Top 4 In EPL Our Focus; Nigeria's AFCON Group Foes
Published: April 20, 2019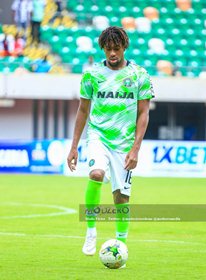 Super Eagles and Arsenal winger Alex Iwobi in this exclusive interview with
allnigeriasoccer.com
's Izuchukwu Okosi speaks on Arsenals passage to the semifinals of the UEFA Europa League, the Gunners' top 4 chances and Nigeria's 2019 AFCON Group B rivals.
Congratulations on your qualification after the win over Napoli; you will play Valencia in the semifinals. Was there any nervous moments ahead of the game on Thursday, perhaps due to Arsenal's away forms?
Napoli is a very big team with great players. We had to be at our best to beat them. We worked hard when we played them at the Emirates beating them 2-0.

Going into the away game we knew that if we scored a goal they would need to score four goals. The manager Unai Emery adopted a very positive approach and demanded that we should attack rather than sit back.

Napoli has very good attackers and had chances to score but fortunately we were able to keep them out. The Napoli fans were very vocal; I was pleased when Alexandre Lacazette scored the free kick as this quietened them down and eased the pressure on us.

The Arsenal fans also attended the game in great numbers and helped us through the difficult moments in the game.
Do you consider the Europa League a more likely route to the Champions League given there are potentially only two hurdles to cross?  Chelsea are in the mix and could be your opponents in the final.
We are battling to finish in the top four in the Premier League and also to win the Europa League and we are not prioritising either. Our approach is to take it game by game. In the Europa League our next challenge is Valencia who are a very good side.

There is no need to set our sights on Chelsea until we get past Valencia and again there is no guarantee that Chelsea will get past Eintracht Frankfurt.

We have a very good manager who has won this competition several times (three) and we shall continue to work hard to win this competition and have a great finish to the season.
On Sunday you play Crystal Palace, the team must be buzzing. What's the mood like amongst you guys?
The mood in the camp is very positive as each win brings greater confidence. Beating Watford and Napoli away was very pleasing given the fact that our away form has not been great.

Every game in the Premier League is difficult and I expect the match against Crystal Palace to be no different. Our home form has been good and as usual we are going to prepare very well to get a win which will keep us in the running for a top four finish .
You play as a winger at Arsenal. There has been media reports in the English media that the club could be signing another player in that position. Does that put pressure on you or inspire you?
 Arsenal is a very big club with quality players. There is always competition for positions and players always need to be at their best to be part of the match squad. I always work hard in training and do my best on match days and have no time to worry about who is leaving or coming into the club.

Competition for places in teams is necessary and keeps everyone on their toes. I am confident in my ability, apart from playing as a winger I am also able to play in other positions and that also helps me to retain my position at Arsenal.
Let's talk about the Super Eagles. Nigeria have been grouped with Burundi, Guinea and Madagascar for the AFCON in Egypt. What's your opinion about this group and other groups, were you hoping to meet, or avoid any team?
 Football as a global sport has grown remarkably and the gap in quality between the various nations has closed remarkably. There are no easy games and I expect the matches between the Super Eagles vs Burundi, Guinea and Madagascar to be tough games.
You always have to show respect to your opponents. To win a high profile competition like AFCON you will inevitably face stiff competition - the key is to be prepared and disciplined . Nigeria has a young and strong team and we have been together for some time now.

The Nigerian Government and the NFF have been very supportive of the team. We also have a very good coach and support staff and this has helped the team qualify for the World Cup and AFCON with games to spare.
The matches against Seychelles and Egypt in Asaba were both dead rubber AFCON qualifier and friendly match. How important was it for the players which were the regulars to come together?
The matches against Seychelles and Egypt provided an opportunity for the head coach to try out different formations and look at new players.

Nigeria is blessed with talented players and there are no guarantees on what the final list of players will be. There is great camaraderie in the camp and I have made very good friends since I joined the Super Eagles.
There's no price guessing your most memorable game for Nigeria, against Zambia. But which would you consider as most difficult so far?
Appearing in the colours of the Super Eagles has given untold joy to me and my family. Indeed it is an honour and privilege to represent one's country.
Scoring the goal against Zambia that took Nigeria to the World Cup was an emotional moment for me and brought a tear to my eye because I knew what it meant to the Nation.

My parents were in the crowd at the stadium in Uyo and I could see them jumping up and down with the fans. It will remain forever in my memory- it was a great moment.

I have been involved in very tough matches for Nigeria but the one that sticks in my mind was our 4-2 win in a friendly against Argentina. Although it was a friendly no one thought we could pull out a win.

We ended up beating them 4-2. I scored two goals in the game and the team made our country very very proud.
Finally could you give us your prediction for the top four position?
This year's Premier League has been keenly competed unlike last year's when Manchester City ran away with the title. I don't want to jinx my team by making predictions, all I can say is that I am confident that Arsenal will finish in the top four.
Thank you, Alex for your time.
 You're welcome
Izuchukwu Okosi