Myron Topclass Sport Outfit Partners With Digital Player Recruitment Agency TheNextGen
Published: May 02, 2019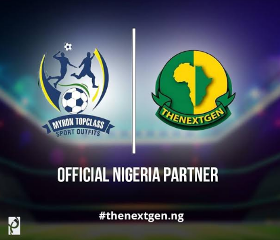 Myron Topclass Sport Outfit has taken sports management to another level by sealing a partnership deal with Digital creative player recruitment agency, The Next Generation *THENEXTGEN*.
The Next Generation is an agency that focuses on changing the current traditional concept of player recruitment and marketing in Nigeria and Africa through digital scouting.
They also recruit, market, support and grow the profile of undiscovered talents in Africa and also create a platform for their exposure.
*THENEXTGEN* will provide marketing services, provide talented scouted players with full exclusivity as well as build players profile through social media and  provide further opportunities for players of the two parties while the partnership lasts.
On the part of Myron Topclass Sport Outfits, it behooves on them to secure clubs and represent scouted players both locally and Internationally, to facilitate players participation on local and International tournaments.
The sports management firm is also saddled with the responsibility of safeguarding the interest of players in a professional manner among other things covered in the contract which started Officially on April 29, 2019.
*THENEXTGEN* official Mr Solomon Aina after sealing the partnership said "TheNextGen is very excited to have completed a partnership deal with Myron Topclass Sport Outfits, a company we have been admiring for some time and are highly respected in the market"
"This Partnership brings a new dimension on how Africa agencies are portrayed and further gives a transparent and professional view to the public"
"We look forward doing great things within the Africa market, specifically Nigeria"
On his part the principal partner of Myron Topclass Sport Outfits Mr. Ogbemudia Iseri said "At the age we are now you have to grab all opportunities to expand your business digitally, considering how information on the internet go far beyond boundaries within a split second this a must say it's a perfect partnership."
We have gone through the profile of The Next Gen and honesty with the services they are obligated to provide for us in this partnership it's a win win deal which will yield bountiful returns in the coming days" Mr. Eddie concluded.
Bayo Adegboyega