Nigerian Players From Premier League To Help Win 2019 AFCON - Iheanacho, Iwobi, Ndidi
Published: May 14, 2019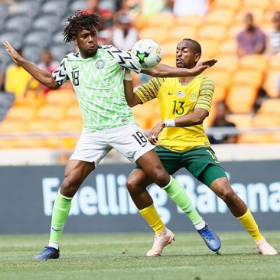 With AFCON 2019 scheduled to run from June 21 to July 19, 2019, each of the participating teams are looking to solidify its respective rosters.

In all, there will be 24 teams participating in this year's CAF Africa Cup of Nations or AFCON tournament.

The first AFCON event was held in 1957 and every year thereafter until 1968 when the event was transformed into a every two-year tournament.

The winner of the event gets more than bragging rights. The team that wins the event in the year prior to the FIFA Confederations Cup automatically qualifies for that competition.

Based on recent history (three wins and a second in the last six tournaments), Egypt has to be considered one the teams to fear the most.

This information would be of particular interest to online sports gamblers.

While an online casino like Casumo
(Check Casumo Casino)
is entertaining casino players with online casino games, many of the UK's top bookmakers will be offering a full schedule of betting options on every one of the AFCON matches all the way through the championship game.
Premier League Players Boost the Chances of Nigeria
Two-time AFCON champion Nigeria will be looking for its third title and its first since 1994.

With three key players from the UK's Premier League slated to join the team for lead up exhibition games and the tournament itself, Nigeria has to be considered one of the early favorites to lift the trophy over its collective heads in victory on July 19.
The three players of note include 
Alex Iwobi
(Arsenal), Wilfred Ndidi (Leicester) and Kelechi Iheanacho (Leicester). 
With both Arsenal and Leicester City out of the running for the 2018-2019 Premier League title, all three players can now switch their focus to helping Nigeria climb to the top of the African soccer world.
Iwobi is slated to represent Nigeria as a winger/forward. He has been a fixture with Arsenal since the 2015 season, scoring 11 goals over 99 matches.

He has also been a fixture with Nigeria's national team where he has record 5 goals in 27 matches. He hopes to follow in the footsteps of his Uncle Jay-Jay Okocha by winning the Africa Cup of Nations.
Coming off his third season with Leicester City, Ndidi will be looking to take his place as a midfielder when Nigeria takes its place on the pitch for its first-round match.

The 22-year-old has recorded a total of 4 goal over 87 appearances with Leicester while still looking for his first goal in international play over 24 appearances.
Easily the most accomplished of the three players, Iheanacho began his Premier League career with Manchester City in 2015. In two seasons with City, he scored a very nice 12 goals over 46 matches.

After signing to join
fellow Nigerian Ndidi with Leicester as a forward, he has managed to record another 4 goals over 51 matches.
At the international level for Nigeria, he has exhibited the ability to be a real team leader, scoring 8 goals in only 23 matches.
The real value this threesome brings to the Nigerian national team is continuity. All three players were selected for Nigeria's 35-man squad in 2015.

With four years apiece of Premier League experience and the same four years as teammates with the national team, Nigeria looks positioned to make a long run into the AFCON 2019 tournament.
Igho Kingsley