Former Super Eagles Stars Udeze, Chukwu Ndukwe, Erico Thumb Up Mikel's AFCON Selection
Published: May 15, 2019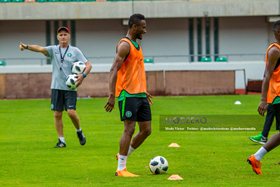 The addition of Super Eagles captain John Mikel Obi in the 25-man provisional squad for the 2019 Africa Cup of Nations released on Tuesday has been applauded by the trio of Ifeanyi Udeze, Chukwu Ndukwe and Joe Erico.
Mikel has not played for Nigeria since the 2018 World Cup in Russia and his inclusion has divided opinions amongst Nigerian football faithful.
The former Nigerian internationals however expressed satisfaction by Mikel being in the plans of chief coach Gernot Rohr
"Playing in the (English) Championship for Middlesbrough is better than playing in China. Its been one year that he left the Chinese Super League so " should still be  in shape," Chukwu Ndukwe who scored one of Nigeria's goals in the final of the 2000 Africa Cup of Nations against Cameroon told Brila FM on Wednesday.
"That is why the promoted clubs from the Championship; Norwich City and Sheffield Wednesday are reportedly interested in signing him."
One-time West Brom left back Ifeanyi Udeze who was part of Nigeria's team to the 2002 Africa Cup of Nations as well as the World Cup same year in Korea/Japan believes Mikel's experience will be invaluable to the Eagles' cause in Egypt.
"A lot of the players respect and look up to Mikel. He can boost the players' confidence. His being part of the team is a boost. And that's in addition to some of my former teammates.
"But if you ask me, he's in shape and should have a space in the starting eleven. We all watched or heard of how he made an impact at Boro," the former defender who is now a football pundit stressed.
In a similar vein, one-time Green Eagles goalkeeper Joe Erico opines that the list contains most of the players that played at the World Cup and Mikel won't find it hard to reintegrate back into the team.
"I think its a blessing if he makes it going by Mikel's experience and the chemistry in the team.
" That's the team that went to the World Cup, they understand themselves very well. Mikel is going to be the leader of the team. He's going to assist the coaches have a good team. This is the AFCON. They are going to do a lot of job," the former NEPA FC of Lagos goalkeeper affectionately called the 'Jogo Bonito' exponent reiterated.
Nigeria will face Madagascar, Guinea and Burundi at Egypt 2019 AFCON.
Izuchukwu Okosi