Bordeaux Winger Kalu Needs One Thing To Be As Good As PSG Superstar Neymar
Published: May 16, 2019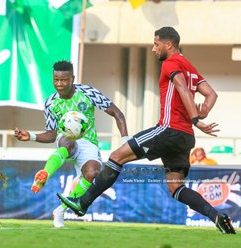 Brazil star Neymar is definitely one of the best players in the world considering his achievements since he turned professional some years back.
Though Neymar's fame has somewhat reduced since he left Barcelona for PSG in 2017, the 27-year-old is still in the same class with the world's most deadly strikers — including Robert Lewandowski, Antoine
Griezmann, Cristiano Ronaldo and Lionel Messi — as he is known for his wonderful dribbling skills and goalscoring prowess.
Super Eagles youngster Samuel Kalu plays in Ligue 1 with Bordeaux Girondis, and he is as speedy as the Brazilian winger cum striker.
His dribbling ability is equally one of his greatest assets, which makes him a handful winger for defenders, and only few Ligue 1 players have what it takes to be in his class when it comes to the ability to dribbling past defenders.
However, the 21-year-old must add more goals to his game if he must be as good as Neymar in the 2019-20 season.
The Brazilian has scored 15 goals from just 17 league games, making him one of the division's top scorers this season.
Kalu has managed just three goals despite playing more league games which is definitely not the best he can offer.
The former Gent man must work on his goalscoring instinct before the start of next season as this will help to improve his overall rating in the game.
Kalu is tipped to make Gernot Rohr's list for the upcoming AFCON tournament in Egypt as long as he is physically fit.

He has played five games for the African giants and has found the back of the net just once.
Ibukun Italoye