Etebo Charges Young Footballers To Combine The Game With Education, Confirms Availability For Summer Camp
Published: May 30, 2019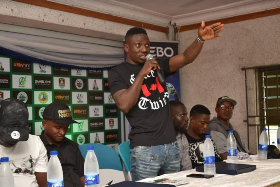 Super Eagles midfield maestro, Etebo Oghenekaro Peter has advised every kid who has a dream of becoming a professional footballer not to toil with  his or her education, adding that the two can work in tandem.
At an event put together by SpringSoca Academy, Lagos, in conjunction with Etebo Oghenekaro Peter Foundation tagged "A day mentorship programme with Oghenekaro Etebo", the Stoke City 2018/2019 Player of the Season brought to the fore the need to distinguish one's self with education, while appealing to over 250 kids present to put God first and be determined.
The Rio 2016 Olympic Bronze medalist said "Hard work will beat talents any day, you have to go extra miles and ensure you give your best  whenever you are called upon, put God first because he is the Alpha and Omega, be determined, and be disciplined".
"If from the ghetto in Warri, I could go all the way to Europe, you can also do better with time, commitment, hard work and God on your side".
The former Warri Wolves midfielder however admonished the kids to ensure they build on their area of keen interest, stressing that everyone will not play football, he said "Certainly, there are Doctors, Lawyers and other professionals that will spring forth from this gathering, life is not all about football".
Corroborating his words, ex-international, Tajudeen Disu shared his experience with the lads and also threw his weight behind studying and playing football.
"I had the opportunity of playing football and the privilege to represent the national team, but education is a vital tool to securing a brighter future even after Football, Etebo is in the mix now, he has said it all and I urge you all to be up and doing in all spheres".
The President of SpringSoca Academy Mr. Dapo Emmanuel appreciated Etebo Oghenekaro for coming around and for always giving back to the society in different forms and manner.
He appreciated the Coordinator of Etebo Oghenekaro Peter Foundation who is a Nigeria Football Federation licensed intermediary, Mr Endurance Iseri Ogbemudia who is also the Managing Partner of Myron Topclass Sports Outfits, the agency that manages SpringSoca Academy, Etebo Oghenekaro, Daniel Akpeyi, among other notable footballers, for his assistance towards making the event a reality.
Eddie Iseri Ogbemudia in his own remarks reiterated the Foundation's commitment towards giving back to the society and also appreciated Africa Cup of Nations bound Etebo for his kind gestures every time he is called upon to render services to humanity.
Etebo who had earlier presented his signed Stoke City jersey to SpringSoca Academy was also given an Award of Excellence for his selfless service to humanity, the Warri-born box-to-box midfielder on behalf of the Academy also presented an award to the Chairman, Surulere Local Council Development Area, Hon. Tajudeen Ajide.
Etebo also launched the "Summer Camp with Etebo" Campaign, a platform which will give young footballers the opportunity to play on the same pitch with him.
The event is scheduled to hold after the 2019 Africa Cup of Nations before he jets back to Europe for pre-season.
Also present at the event were Co Coordinator of EOPF Mr Koma Stephen, renowned football agent, Mr Ariyo Igbayilola who manages Super Eagles forward Victor Osihmen, stakeholders, men of the press and well-wishers from different walks of life.
Bayo Adegboyega