'Man Utd Need To Sign Oshoala As Their Top Striker' - Nigerians React To Brilliant Display By Barcelona Star
Published: June 12, 2019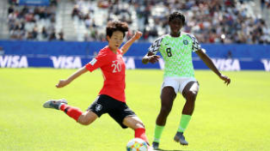 The Super Falcons of Nigeria brought their 2019 World Cup campaign back on track as they thrashed South Korea 2-0 on Wednesday afternoon.
An own-goal from Kim Do-yeon and Asisat Oshoala's beautiful goal were all the Falcons needed to get maximum three points against the Asian country.
Nigerians are happy with Oshoala's woman-of-the-match display, and here are some of what they're saying about the Barcelona star on Social Media:
@Jololade: "Oshoala brought all her armoury to that goal, pace, power and hunger. #FIFAWWC #NGAKOR"
@ejide_michael: "Super falcons are balling. Did you see Oshoala 's goal. Ebi's solid defense and our keeper's saves IFB #NGAKOR"
@birdiefootball:  "Asisat Oshoala is the Woman of the match. congratulations #NGAKOR"
@sirpaul42 : "#NGRKOR oshoala is so good that Koreans are clapping for her...... Proudly Nigerian she is just making My head swell"
@GideonToba:  "Superb goal from Asisat Oshoala , this goal makes her the 1st Nigerian woman to score in 2 consecutive World Cup. She's just 24yrs"
@official_maxwin: "Man Utd need to sign this Oshoala as their top striker and sell Lukaku on a free transfer deal #NGAKOR "
@Demosha_:  "I dey fear to tweet my mind about Oshoala"
@ChuxEkere: "Asisat Oshoala (2015 & 2019) is the second Nigerian to score in two different #FIFAWWC after Rita Nwadike (1995 & 1999)."
@iambolar: "Oshoala uses her pace and finishes beautifully. Good goal!"
@GuchoKingsley: "This is so incredible @ Oshoala is on fire "
@ChidubemNJ: "Asisat Oshoala with the goal, Chidinma Okeke with the sauce. Common you Falcons!"
@theCyberNewt: "You can tell how much that goal meant to Asisat Oshoala. #NGA #NGAKOR #FIFAWWC"
@AyodejiX2: "Decent finish by Oshoala. That playmaking from Okeke is quite brilliant. #FIFAWWC"
Ibukun Italoye
Photo Credit : fifa.com