Nigeria vs Burundi : What Super Eagles Must Do To Defeat Unpredictable Debutant
Published: June 20, 2019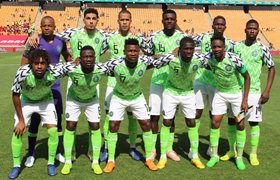 Super Eagles begin their 2019 AFCON tournament on Saturday when they tackle Burundi at the Alexandria Stadium in Egypt.
The West African side are expected to get past their opponents without stress based on the quality of players in the team and the fact that Burundi are in the tournament for the first time in history.
Irrespective of the stats which are in favor of the Super Eagles ahead of the clash, Gernot Rohr needs to deploy a strategy that will enhance his desire to get maximum points on Saturday.
The German tactician must charge his players to attack from the blast of the referee's whistle because the Swallows are known for their solid defensive ability.
Coming up against a very attacking side like the Super Eagles, coach Olivier Niyungeko will definitely charge his boys to maintain their composure but constant pressure from Rohr's men will help them get past the Burundians defensive unit.
Gernot Rohr's must also come up with a plan to stop Berahino and Abdul-Razak from seeing much of the ball because both players are capable of scoring great goals.
Berahino is not a stranger to many Super Eagles fans having shown his attacking traits and qualities during his days with West Brom in England.
He is one player who could condemn the Super Eagles to their first competitive defeat since June 2018.
Lastly, the Super Eagles players must avoid complacency and overconfidence as that could prevent them from giving their best against the African minnows.
Ibukun Italoye