Great Overall Display Vs South Africa But One Department Must Improve
Published: July 12, 2019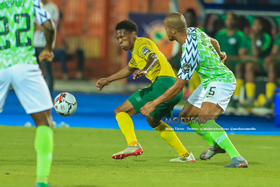 The Super Eagles of Nigeria put up a good showing on Wednesday to defeat Bafana Bafana of South Africa 2-1 in the quarter-final round of the AFCON 2019 tournament.
Unlike in their four previous matches, Gernot Rohr's men were in control of the encounter from start to finish leaving Stuart Baxter's men with no option than to struggle for the ball.
The link-up play from defence to attack was nothing short of brilliance, thanks to Etebo, Ndidi and Iwobi's understanding in midfield.
The forwards were more adventurous and active than they were against Cameroon but their end product let them down.
It will be totally unfair to criticize the team's overall display against South Africa. However, there are some work to be done at the back of the pitch.
As much as there was massive understanding between the defenders during the Wednesday's encounter, they still couldn't keep a clean sheet which must be a great concern to Rohr and his backroom staffs.
The defence line has proven to be Nigeria's weak point having conceded five goals from five matches.
The uninspiring record is also a testament that intense work must be carried out on the defenders before their next match.
Akpeyi, though largely unconvincing, shares little or no fault in all the goals they've conceded so far, hence, the call for his replacement by some Nigerians is unjustifiable.
The back four must collectively improve their display in the remaining matches as they are bound to face more threatening and deadly strikers.
They can't afford to lose concentration during games as that could be costly when they face well tactically and technically sound attackers.
Ibukun Italoye