Fight For Bronze Medal: Rohr Must Unleash The Beast In His Team
Published: July 16, 2019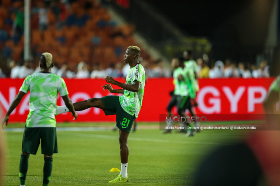 It's no more news that the Super Eagles' dream of winning their fourth continental trophy was shattered by Algeria in Sunday's semi-final tie which ended 2-1.
Gernort Rohr's men couldn't stand the Desert Warriors' challenge and they were a little bit unlucky to have conceded a goal with the last kick of the game.
Though the defeat was definitely painful and heartbreaking, they have to get over it and prepare for the third-place match against Tunisia on Wednesday.
Wednesday's clash offers the West African giant  an ultimate lifeline to win a medal before the end of the competition on Friday, therefore, they can't afford to dwell on the loss to Algeria.
The players must be psychologically ready for the encounter, while the coaching crew must be tactically prepared to face another tough side from the Northern part of the continent.
However, it's time for Gernort Rohr to unleash the beast in his team, and that's no other person but Victor Osimhen who is yet to feature for the team in Egypt.
No one will ever imagine that the youngster who, scored 19 league goals last season, won't appear in any of the six matches they've played so far.
Understandably, Rohr is finding it difficult to ignore his highly-rated striker Odion Ighalo from the starting line-up, but the gaffer should have deployed a formation that will give room for two centre-forwards.
The third-place encounter is arguably the best time for Rohr to utilize Osimhen who will be determined to show everyone why he should've been an integral part of the Super Eagles since the start of the tournament.
Ibukun Italoye