Right2Win Academy Protest Outcome Of Match Day 10 Against Against Akajiobi United
Published: July 28, 2019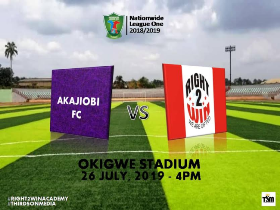 While it is evident that the administration of Amaju Melvin Pinnick led Nigeria Football Federation is doing everything possible to eradicate manipulation or any sort of compromise that could bring Nigerian Football into disrepute, and while the Nationwide League governing body which has a thorough professional as its Chief Operating Officer C.O.O, in person of Mr. Sola Ogunnowo, it is rather unfortunate that some people derive joy in trying to drag Nigerian Football into the mud.
We make reference to the bias, barbaric, inexplicable and unforgivable show of shame put up by match officials that were in charge of NLO1 week 10 encounter between Akajiobi United and Right2Win Academy on Saturday, July 27, 2019 at the Okigwe Stadium, Imo State.
Center referee Gwegwe Enize made several unjust calls, just to frustrate our efforts, the game was a decider for Nigeria National League promotion playoff, hence his too many obvious wrong calls against us.
Among other bias calls, he awarded a dubious penalty against us towards the end of the second half, and subsequently breached the new IFAB rules which has been effective since June 1, 2019, by allowing a goal to be scored via a penalty rebound from the same player, after the goalkeeper had initially saved the spot kick.
We have done the needful by reporting the case officially to the appropriate authorities, but it is pertinent to carry Nigerians along as we continue to fight against corruption and manipulation in all ramifications, we trust the judgement of the league governing body, they have proven to be steadfast and sincere over the years.
Justice is all we seek for.
Bayo Adegboyega