'Pepe Will Bring The Best Out Of Iwobi' - Arsenal Fans React To Signing Of Africa's Most Expensive Player
Published: August 01, 2019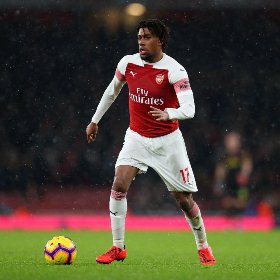 Arsenal fans are happy as the club officially announced the signing of Ivorian Winger Nicholas Pepe from Ligue 1 side Lille.
The Gunners have signed Pepe for eighty million euros, making him the most expensive African player in history.

They can't wait to see how the new Gunner will form a great partnership with Alex Iwobi and Aubameyang in the coming season.

Here are some of their reactions on Twitter:
@uncle_jide: "Iwobi/Auba/ Pepe is such a strong front three. Lots of fluidity and each player has distinct strengths. Not to mention we could have a very strong fullback pairing this season as well".
@Hice_yyy: "Arsenal would really be an attacking force this season, with Laca, Auba and Pepe upfront. Ozil, Mkhitaryan and Iwobi behind them. However they still need to work on their defense! #AFC #Arsenal".
@henroczy: "#PepeIsHere Iwobi operates from the left while Pepe from right, we're going for EPL title".
@aladeabidemi74: " Awesome signing! Pepe will bring the best out of Iwobi... Welcome to #Arsenal".
@Uchechi: "Iwobi to benefit from Pepe, not the opposite #PepeIsHere #COYG".
@kemi_futball: " great to see Arsenal make the best deal since Wenger's departure, Iwobi/Pepe combo will be hot".
@callmedking: " Aubameyang, Pepe, Iwobi... Arsenal's attack will be hotter than fire this season".
@Olaide: "Pepe's deal is good for Arsenal but Iwobi must up his game".
@jame_gbenga: "Arsenal to compete for the trophy after signing Pepe to feature alongside Iwobi, Aubameyang and Lacazette".
@amarachi: "#PepeIsHere #iwobi will definitely improve his goalscoring record this season, welcome Pepe".
Ibukun Italoye
Photo Credit : arsenal.com