Confirmed : Leicester City Loan Out Talented Nigerian Striker
Published: August 07, 2019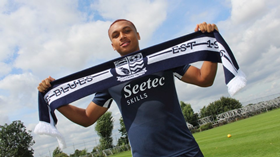 Former England U-17 international Ndukwu was a mainstay for the Foxes' U-23 side.
Southend  manager Kevin Bond was understandably ecstatic about the acquisition of the youngster who has been handed the Jersey number 17 at the club and poised to make his debut against Blackpool this weekend.
"I'm hoping he will give us that X-Factor," said Bond after securing the services of Ndukwu from the Premier League side.
"He's somebody who can beat a player, somebody who can do something different, create and he offers pace. t's his first opportunity to play football that really matters.
"We'll give him all the encouragement he needs to produce his best at Southend.
"He's highly thought of. We had some reports on him last season playing for the Leicester Under-23s and the reports we had were positive.
Bond apparently was overjoyed by the willingness of the player's former coaches who gave their nod to the move.
"I spoke to the manager at Leicester about him, I spoke to the people who look after him and his youth coaches and they all think he is ready for the opportunity, so we're going to give him that opportunity.
"I look forward to him showing us and the Southend supporters what he's got.
"We need somebody out wide who can do something. We've got Macca who offers us that natural width but we need somebody else to give us that little bit of something and get bums off seats so I'll look forward to seeing what he can offer us."
Ndukwu himself spoke to the club's website on heading out on loan for the first time in his career.
"I'm really happy to be here," he said. "It's a good club, it's a really good opportunity to get some first team football and I can't wait to get started.
"It's men's football and I've not played much men's football so far. It's good foundations for the start of my professional career.
"I've been trying to get out on loan for the last three years but I've matured a lot recently and it was just a matter of time before I did.
"I need a fresh and more competitive challenge to kick start my professional career and I hope to make the most of the opportunity."
Izuchukwu Okosi
Photo Credit : southendunited.co.uk