Chelsea Nigerian Fans Are All Saying The Same Thing About Abraham After Penalty Miss In UEFA Super Cup
Published: August 14, 2019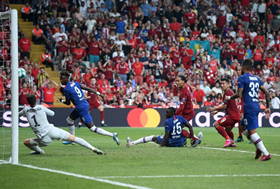 Nigeria-eligible striker Tammy Abraham missed the final penalty in the shootout as Chelsea were beaten 5-4 on penalties by Liverpool in the UEFA Super Cup staged in Istanbul on Wednesday evening.
The England U21 international was introduced off the bench in the 74th minute as replacement for Olivier Giroud, whose first-time shot past goalkeeper Adrian gave The Blues the lead nine minutes before half time.

Sadio Mane equalised for the Reds two minutes into the second half, then made it 2-1 in the fifth minute of extra-time before Jorginho converted a penalty won by Abraham in the 101st minute.

Chelsea's Nigerian fans were disappointed after Abraham's penalty miss, with majority noting that history repeated itself as their former striker Romelu Lukaku missed the decisive kick after nine perfect kicks in their loss to Bayern Munich in the 2013 UEFA Super Cup.

Here's what they had to say :

@gapalaiye : ''It was Lukaku 6yrs ago against B/Munich naw it's Tammy Abraham another Lukaku in d making, despite d UEAF Ban, Super Frankie has proven him self as a quality Manager''.

@chpmnkalvin : ''Like 2013, Tammy Abraham does a Romelu Lukaku in 2019 after a 2-2 after extra time in both matches''.

@fabuloustohlu : ''Tammy Abraham 2019 = Romelu Lukaku 2013''.

@knngtee : ''Tammy Abraham did a Lukaku on me''.

@iz__jhoe : ''Tammy Abraham pulled a Lukaku''.

@raedrey15 : ''I saw it coming......Tammy Abraham should just go on loan like Lukaku did.''

@Ralpharmony : ''Tammy Abraham took his PK off Romelu Lukaku's playbook. Exactly how Lukaku did it in our last #supercupfinal appearance. You just feel like he doesn't realise he's on the big stage yet.Boy. We were sooo close.I'm impressed by my team anyways''.

@opash82 : ''Tammy Abraham pulling a Lukaku on that one''.

@omojojo : ''Another lukaku in Tammy Abraham! He was too nervous''.

@BabajideJames : ''It was Lukaku in 2013; it's Tammy Abraham in 2019 - both after a pulsating 2-2 draw after ET. Heartbreaking defeat after a brilliant performance across board by the @Chelsea''.

@m0n_Des : ''Tammy Abraham, Lukaku reborn''.

@OdianosenEtomi : ''Tammy Abraham. Just like Romelu Lukaku 6 years ago.''

@footiedami : ''Tammy Abraham misses the crucial PK for Chelsea just like Romelu Lukaku in 2013. Dejavu #uefasupercup2019''.

@hashtagtega : ''Romelu Lukaku incarnate.... Tammy Abraham''.

@iam_bussie : ''Saw tammy abraham and this lukaku moment came to mind. Chelsea De javu?''

Igho Kingsley

Photo Credit : uefa.com