Done Deal : Right2Win Academy Captain Tochukwu Joins KFC Komárno
Published: August 17, 2019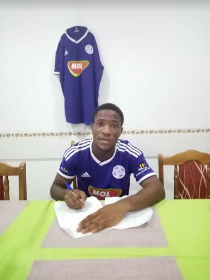 Captain of Nigeria Nationwide League side, Right2Win Academy Udeh Tochukwu has signed for Slovakian 2.Liga side KFC Komárno.
Tochukwu shown like a million stars during the 1 week trials that landed him the move.
The Chief Executive Officer of Dreamland Academy Mr. Edede Ndudi facilitated the deal after seeing the quality in the Right2Win skipper.
President of Right2Win Academy Engr. Kelechi Orji Nnorom who confirmed that the deal has been signed, sealed and delivered appreciated Mr Edede Ndudi for the role he played, and said the player has his blessings, as well as the entire Right2Win Academy family.
KFC Komárno finished fifth in the 2. Liga in the 2018-2019 season. They face Podbrezová in their next league match on Saturday, August 17.
Bayo Adegboyega