One Reason Why Tomori Could Win The Fight Against Two Experienced Defenders
Published: August 24, 2019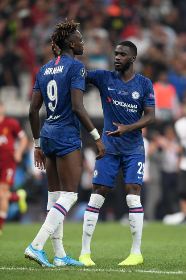 Fikayo Tomori's dream of becoming an important figure at Stamford Bridge scaled through the first hurdle as he wasn't sent on loan during the summer transfer window despite Everton's keen interest in his services.
The Toffees were linked with his services as an alternative to Kourt Zouma but the England U21 international remained at West London after the summer window.
Having secured a place in Lampard's squad, Tomori now finds himself in a more competitive environment where well-established players fight for spots in the gaffer's starting line-up.
Tomori needs to negotiate his way past Zouma, injured Antonio Rudiger and Christensen before becoming a regular player under Lampard's watch this season.
Christensen appears untouchable at the back of the pitch, hence, Tomori is in a three-horse race involving Zouma and Rudiger.
His chances of defeating his two teammates in the competition appear slim due to his level of experience compared to his competitors, but he can count on  his cordial relationship with Lampard as an added advantage.
He was with Lampard throughout last season, and he had a great campaign with the Chelsea legend at Derby County.

He must be prepared to take his chance whenever he's called upon by Lampard.
The Nigeria-eligible centre-back has featured in one out of four matches played by the Blues in all competitions this season and that was in the UEFA Super Cup vs Liverpool
Ibukun Italoye

Photo Credit : chelseafc.com