United's New Signing Harry Maguire Condemns Racial Abuse (Article Sponsored by Sports Betting)
Published: August 30, 2019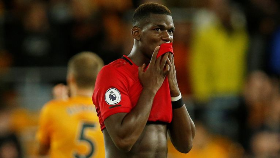 We know that racism has no place in sport or anywhere else. First, we are going to talk about something that has become an integral part of any sport – betting.
1xBet is a trusted online bookie that lets you place bets on various sporting events across thousands of leagues, cup competitions, and more.
There, you can take full advantage of
sports betting https://1xbet.mobi
has the best odds, fastest payouts, and most lucrative bonuses.
Man Utd's new signing Harry Maguire took it to Twitter to condemn racial abuse after his teammate Paul Pogba became a target.
Pogba's spot kick was saved during a 1-1 draw with Wolverhampton this past week. After this incident, various MU supporters began racially abusing the Frenchman on social media.
Yet another Man Utd player, Marcus Rashford, also expressed his disgust – he said that Man Utd is a big family and if fans choose to target Pogba with their cruel insults, they essentially are going after the entire team.
Unsurprisingly, this incident garnered a major response from the football community. Man Utd officials are doing their best to identify the individuals responsible for the abuse directed at the Frenchman.
Former Man Utd player Phil Neville suggests that players should stop using social media altogether in order to send a message that such behavior would not be tolerated.
Manchester's Upcoming Games That You Can Watch at Live Football Stream
At the time of writing, Man Utd is placed fourth, behind Man City, Arsenal, and Liverpool.

•    vs. Crystal Palace (home)
•    vs. Southampton (away)
•    vs. Leicester (home)
•    vs. West Ham (away)
•    vs. Arsenal (home)
•    vs. Newcastle (away)
•    vs. Liverpool (home)
All of the upcoming fixtures are tough, but you have to wonder if this incident is going to put extra pressure on Man Utd as a whole and Paul Pogba in particular.
Many people point out that you can't really expect the players to perform at the top level when their own fans turn their backs on them.
Nonetheless, it remains to be seen what Man Utd is truly capable of this season.
According to
today match 1xBet
predictions, Man Utd are expected to beat Crystal Palace at home.
The most likely result here is 1-0 win for United. You can take this free prediction and use it to win big at 1xBet.
This online bookmaking company has the quickest payouts and the most lucrative bonuses, so you can easily create an account in five minutes flat and then bet on Man Utd's win.
Igho Kingsley