Super Eagles Lose One Place In Latest FIFA Ranking, Now 34th In The World
Published: September 19, 2019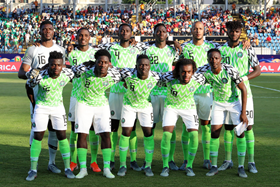 Nigeria dropped one place in the latest Coca Cola FIFA world ranking released on Thursday morning.
The Eagles were held to a 2-2 draw by Ukraine in Dnipro in their last friendly in an international window that 78 friendlies, 74 continental qualifiers and 60 FIFA World Cup Qatar 2022 qualifiers were played.
The Eagles were previously 33rd before the new ranking and are third in Africa behind Senegal who are the world's 20th best national side and Tunisia, 2nd in Africa and 29th in the world.
Making up the top ten places in Africa are: Algeria (4th), Morocco (5th), Egypt (6th), Ghana (7th), Cameroon (8th), Congo DR (9th), Cote d' Ivoire (10th).
Benin Republic and Lesotho who the Eagles will face on November 10 and 14 in a double header 2021 Africa Cup of Nations qualifiers are 18th and 39th respectively in Africa and are 83rd and 137th in the world.
The next installment of the FIFA world ranking will hold on 24 October 2019.
Nigeria's highest FIFA ranking was in February 1994 following their second Africa Cup of Nations triumph in Tunisia.
The Eagles will play against Brazil in an international friendly on October 13 at the Singapore National Stadium as part of the Gillette World Tour by the Samba  Boys who will also face Senegal.
Izuchukwu Okosi