'Saka The New Messi' - Arsenal Fans React To Winger's MOTM Display Vs Eintracht Frankfurt
Published: September 19, 2019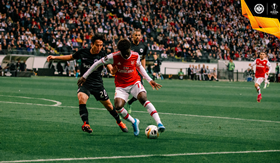 Arsenal began their 2019-2020 Europa League campaign with a 3-0 win over Bundesliga side Eintracht Frankfurt on Thursday.
There were some surprise inclusions in Unai Emery's starting XI as 18-year-old winger Bukayo Saka  was handed a spot in the team ahead of Nicolas Pépé
Saka had an eventful night during the game. His pass was met by Joe Willock whose shot went into Frankfurt's net to give the Gunners a well-deserved lead in the 38th minute.
The Nigerian star doubled the Gunners lead in the 85th minute and was on ground to assist Aubameyang's goal two minutes from time as the encounter ended 3-0 in favor of the visiting Premier League side.
Arsenal fans were impressed with the youngster during the game and they took to Twitter to commend his performance.
Here are some of their comments below:
@eGoMaNiAc_jr : ''Saka Playing Like Prime Messi''.

@NicolasPepes : ''I'm not joking when I say this. But Saka is going to be better than both Lionel Messi and Cristiano Ronaldo!''

@kayb4repu : ''Saka the new Messi''.

@WorldwideAFC: "Bukayo Saka just turned 18 and he looks a huge talent. Should be getting Premier League chances soon."
@P1AFC: "Saka might be the one una, he's so good for his age".
@SemperFiArsenal: "Good goal Willock. Saka is showing glimpses of his talent."
@elspanishgooner: "Saka is incredible for his age. Far too good".
@GUNNERFORCE15: "I actually believe Saka has more potential than Nelson both good young players just got a feeling Saka has a highier ceiling'
@Lacazest: "I think everyone can agree on this one thing: SAKA IS AN ABSOLUTE BALLER!"
@regixta: "Saka 's crossing goodness me he'll do better than Kolasinac at LB".
@FootyCentral9: "Saka 's first Europa League game and already he has had a great impact #EintrachtFrankfurt #Arsenal"
@Beastmodehd13: "Saka wat a player, future is bright @Arsenal @BukayoSaka87 #coyg".
@Aubazettes: "Saka the only good thing from this awful first half. Looks too good for his age and definitely should be given more chance in the first team, especially cause our options on the wing are so limited. Start him the next game @Arsenal".
@afcstuf: "Bukayo Saka has been directly involved in all three ofArsenal's goals against Eintracht Frankfurt tonight (1 goal, 2 assists)".
Ibukun Italoye

Photo Credit : eintracht.de