AHMED MUSA and MIKEL OBI Make IFFHS World's Best Shortlist
Published: October 22, 2010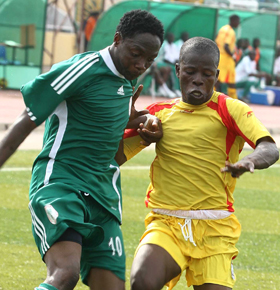 The popularity of the Nigerian wonder-kid Ahmed Musa is increasing every passing second. This time, the IFFHS has recognized the precocious talent.
Each year, the best footballer in the world is selected by national team trainers and national team captains. Officially the winner gets the gong as the World Footballer of the Year.
However, the highly rated International Federation of Football History & Statistics (IFFHS), which is an organization recognized by FIFA, has selected a list of 140 currently active players from 71 countries as the World's Most Popular Footballer, who not need be the best one.
Out of the 140 players chosen by IFFHS, Chelsea's Mikel John Obi and the VVV Venlo rookie Ahmed Musa made the shortlist, including 13 other African players.
The winner of the poll will be announced in January 2011.
Africans Nominated
1)Abdelmoumene Djabou Algérie éntente Sportife de Sétif
2)Saad Tedjar Saad Tedjar Algérie Jeunesse Sportive de Kabylie
3)Flávio da Silva Amado Angola Al-Shabab FC Riyadh
4)Samuel Eto'o Cameroun Inter Milan
5)Didier Drogba Ivory Coast Chelsea FC
6)Mohamed Aboutreika Egypt Al-Ahly Cairo
7)Mohamed Zidan Egypt BV Borussia Dortmund
8)Michael Essien Ghana Chelsea FC
9)Marouane Chamakh Maroc Arsenal FC
10)Ahmed Musa Nigeria Kano Pillars
11)Mikel Obi Nigeria Chelsea fc
12)Katlego Abel Mphela South Africa Mamelodi Sundowns
13)Haitham Mustafa Karar Sudan Al-Hilal Omdurman
14)Yassine Chikhaoui Tunisie FC Zürich
15)Oussama Darragi Tunisie Espérance Sportive de Tunis