'VAR To Tottenham's Rescue Once Again' - Fans React To Ndidi's Disallowed Goal
Published: September 21, 2019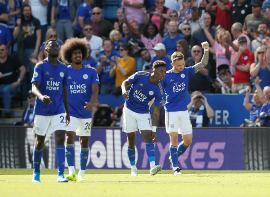 Wilfred Ndidi played all ninety minutes as Leicester City recovered from a one-goal deficit to beat Tottenham Hotspur 2-1 at the King Power Stadium on Saturday afternoon.

The Super Eagles midfielder put the ball in the back of the net in the 16th minute only for VAR to intervene and disallow the goal for an offside offense against Pérez.
Tottenham Hotspur have benefited from VAR since the season started and this was noted by some of the fans in their reactions to the cancelled goal scored by the Foxes number 25.
Here's what the fans are saying about Ndidi's disallowed goal on Twitter :

@Ashley_Rushin : ''I suppose I am laughing, so it could be counted as a joke. If you remove VAR from the equation, we still win 3-2 - there was no flag for Ndidi's goal. But... since we're using VAR - Offside is offside, whether it's a toe or a yard. Imagine the outrage if our first goal had stooD''.

@jcjournalism1 : ''VAR to Tottenham's rescue once again! They'll be delighted to have now taken the lead after being saved from Ndidi's goal #LEITOT''.

@FootyZoo : ''Ndidi puts Leicester in front only for VAR to rule it out for offside. Let's stop celebrating goals.''

@markthecard : ''Goal ruled out by VAR #LEITOT.Ndidi not like that''.

@AJshuaibu : ''VAR cancelled Ndidi's goal, another VAR moment helping Tottenham #LEITOT #EPL #SSFootball''.

@BungleFpl : ''Has VAR been Spurs best player this season? Yes Ndidi! #LEITOT''.

@Linguagroover : ''It was 'Yes, Ndidi' and then it was 'No, Ndidi' #VAR #offside #LEITOT''.

@ColdPLNews : ''Wilfred Ndidi scored for Leicester City but the Referee went to VAR and it got ruled out!''

@Leicestertid : ''Goal disallowed for Ndidi by VAR''.

@iamt_hansom : ''Our very own Wilfred Ndidi thought he had score his second league goal of the season but the VAR correctly ruled that out #LEITOT #EPL''.

@LazyFanSol : ''Spurs best player in recent months making themselves known again at Leicester, as Ndidi's opener for the Foxes is ruled out by VAR #LEITOT''.

@scotty2smithy : ''Ndidi bundles in from close range after Gazzaniga spills Tielemans' shot. Leicester score but VAR rules it offside. #PL''.

@afcsigurd : ''Agreed. It worked great for Ndidi's disallowed goal. Think it works fairly well when it comes to offside.''

@liammcquade1997 : ''I know probs sounds stupid, but that goal was ruled out for offside, but if ndidi didnt score they was going to bring it back for a penalty, why didnt Leicester get a pen after the goal was ruled out?''


Ifeanyi Emmanuel

Photo Credit : premierleague.com