UEFA ASSIST Turkey 0 Nigeria 2 : Olusegun, Nwachukwu Score; How They Lined Up
Published: September 22, 2019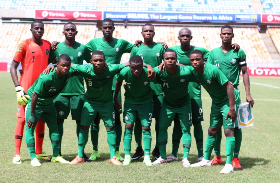 The Golden Eaglets began the UEFA U17 International Tournament with a well deserved 2-0 win against hosts Turkey at the TFF Hasan Doğan National Teams Camp and Training Facilities on Sunday afternoon.

Coach Manu Garba opted to start Sunday Stephen in goal and he was protected by a back four containing Shedrack Tanko, Ikenna Ferdinand, David Oduko and Etim Charles.
Samson Tijani, Amoo Akinkunmi, Fawaz Abdullahi and Shuaibu Abdulrazaq were part of a midfield four, while Wisdom Ubani and Olakunle Olusegun started in attack.
A goal from Olusegun separated the two sides at the break and second half substitute Divine Nwachukwu sealed the win with a second goal for the five-time world champions in the 90th minute.

In their next fixture, Nigeria U17s will do battle with Guatemala on Tuesday, September 24 and wrap up group play against Senegal on Thursday, September 26.
Nigeria U17 Line-Up : Sunday Stephen, Shedrack Tanko, David Oduku, Samson Tijani, Ikenna Ferdinand, Kunle Olusegun, Wısdom Ubani (Divine Nnachukwu 78), Shuaibu Abdulrazaq (Suleiman Lawal 52), Amoo Akinkunmi (Ibraheem Jabaar 52), Etim Charles, Fawaz Abdullahi (Abayomi Mayowa 71)
Ifeanyi Emmanuel