'Finally He Has One Ahead Of Ronaldo' - Nigerians React As Messi Beats Juventus, Liverpool Stars To FIFA Best Award
Published: September 23, 2019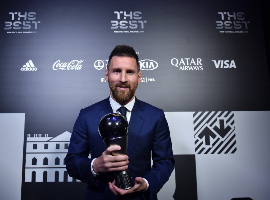 Barcelona striker Lionel Messi has been crowned the best player in the world at FIFA's The Best award ceremony held at Milan's Teatro alla Scala on Monday evening.

The Argentina super star beat Liverpool's Virgil van Dijk and Juventus' Cristiano Ronaldo in the voting for the best player in the 2018-2019 season.

National Team coaches, captains and the media participated in the voting and Messi accumulated 46 points to place first ahead of van Dijk (38) and Ronaldo (36).
Last season, the 32-year-old won the European Golden Shoe, awarded to the player with the most league goals in any of Europe's top-flight leagues and was influential as Barcelona won La Liga and reached the semifinal of the Champions League.

Nigerians have taken to social media to express delight at Messi winning the award ahead of van Dijk and Ronaldo.

Here's what they are saying on Twitter :

@RoiDammy : ''Lionel Messi...the best that was, the best that ever will be...Greatest Of All Time''.

@Fiks_daniel : ''Lionel Messi came to the awards with his wife & Children & you think he won't win it??''

@midehblogger : ''King of FIFA , King of the 9 realms LIONEL MESSI GOAT''.

@pastorfredigho : ''Lionel Messi the best ever to play the beautiful game! Stand up for the champ!''

@kali_Editz : ''Lionel Messi was the best player in the world last season by a distance. Player of the Year for a record 6th time. Well deserved. The little man is the boss!! My Goat never disappoints!!''

@OyeSola_99 : ''And Lionel Messi is #TheBest Men's #PlayerofTheYear. Messi is the World Best player, marking a record sixth time.''

@donsweetni : ''Lionel Messi the GOAT''.

@RealOrodge : ''Congrats to Lionel Messi, well deserved''.

@KingFuture19 : ''World Class Lionel Messi''.

@FinaNapoleon : ''The fifa men's best player of the year is Lionel Messi.  Finally he has one ahead of Ronaldo....''.

@realoladele : ''You can only hate Messi if you are a coward. Lionel Messi is the greatest of all time. ''

@MrBig_Bones : ''Lionel Messi had a wonderful year in terms of personal performances.. Ronaldo had a wonderful yeah in terms of trophy haul.. Van dijk had a great year in terms of performances and trophies.. But I think Messi kinda deserved it tbh''.

@OlayinkaSuraj : ''Lionel Messi deservedly won this award, you should have seen me shouting right here.''

@asuzu_ifeanyi : ''As long as Messi is alive and the question remains "the best player", Lionel Messi will always remain the player to beat!  Congratulations''.

@day_jeee : ''6th world best, the rivalry is over, Lionel Messi is the greatest footballer of all time..Ronaldo and pele can fight for the second spot''.

@Iam_olatunji : ''Standing ovation for the best player in the world...''.

Ifeanyi Emmanuel

Photo Credit : fifa.com