FAITH IKIDI Nominated for Best Defender in Swedish League
Published: October 23, 2010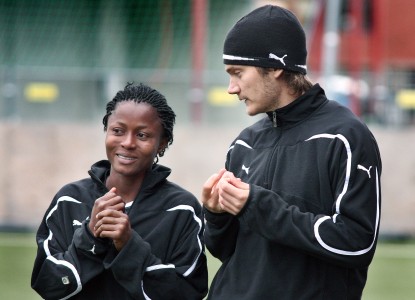 Falcons defender Faith Ikidi has been nominated by the Swedish female league body as the best defender in the league. The award ceremony takes place on November 15 in Malmo.
The 23-year-old Linkoping player, who is attracting concrete interest from European giants Umea IK will have to battle three other players for the award - Linda Forsberg, Annie Smith and Charlotte Rohlin.
However, Ikidi who is missing from Falcon's AWC party was not selected in the category for best player in the Damallsvenskan.
At the last count,there are five Nigerians at Swedish clubs.Faith Ikidi (Linkoping),Onome Ebi (Djurgarden), Sarah Michael (Djurgarden), Rita Chikwelu (Umeå) and Perpetua Nkwocha (Sunnanå).
Photo Credit:Umea IK