Messi Or Ronaldo? Liverpool Loanee Awoniyi Names His Favourite Player
Published: October 07, 2019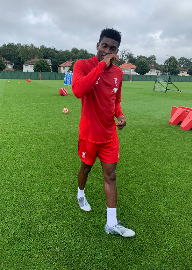 Argentina international Lionel Messi and Portugal striker Cristiano Ronaldo are arguably the best footballers in the history of the game, having 11 Balon d'Or awards between them.
Fans, footballers and pundits can't stop arguing over who is the best player between the two stars considering the longtime rivalry existing between both players.
Meanwhile, Nigeria striker Taiwo Awoniyi has joined in the conversation and believes that the Barcelona star has an edge over his Juventus counterpart.
According to the Liverpool-owned striker in an interview with
Sporting Life Nigeria
, Messi is the best player on earth because he makes football looks easy thanks to his playing style, skill and quality.
Nonetheless, the Nigeria U23 international lavished praise on Ronaldo's hard work and dedication during matches which have seen him achieve many feats in his successful career.
"Of course, they (Messi and Ronaldo) are both great players to be respected,'' Awoniyi said.
"Thanks to someone like Ronaldo, I think he makes the game more competitive for Messi and that's one thing I believe everyone should respect him for.
"But Messi is my favourite because he does things with easy and makes football looks so easy. He's for sure the best.
" Ronaldo is an example of hard work and talent and he is an example that one can achieve whatever you determine to be."
Since his move to Liverpool in 2015, the former U17 World Cup winner is yet to feature for the Reds due to work permit issues.
He is currently on loan at Bundesliga side Mainz 05, where he has featured in three league matches but he's yet to open his goalscoring account for the season.
Ibukun Italoye