Official:OGONNA CHUKWUDI pens three-year deal with Umea IK
Published: October 23, 2010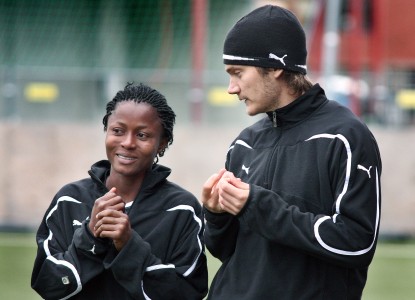 It is now official. Swedish giants Umea IK have announced the signing of the Falcons player Ogonna Chukwudi (22 years) on a three-year deal, the official website of the club reports. The financial details of the deal were not disclosed.
Chukwudi impressed during trials held at the club. But it was the Falcons star Rita Chikwelu who convinced her club in signing Chukwudi, who is her friend.
''Chukwudi is a fast and technical left winger. She will be important for our offensive game and has shown good physique.With this acquisition, we strengthen our ambitions for next season and look ahead one position around the top three, "said Joakim Blomqvist on the new acquisition.
Chukwudi is full of expectations for January, when both she and Chikwelu will be in Umeå after a few months off in Nigeria.
''I'm really looking forward to coming back in January, although I heard that will be incredibly cold, "said Chukwudi.
Photo Credit:Umea IK