Leicester City And Ndidi Are Leading The Tackles In The Premier League
Published: October 09, 2019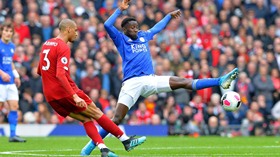 Leicester City have made more tackles than any other team (22.1 per game) and they boast the two top tacklers in the division.

The Foxes have racked up 177 tackles to place first ahead of West Ham (165), Southampton (161), Chelsea (160) and Brighton & Hove (156).

With 35 tackles each, Wilfred Ndidi and Portugal international fullback Ricardo Pereira have broken up play the most.

It is worth mentioning that the Nigeria international has played fewer minutes than Pereira, having missed the trip to Sheffield United in August due to a minor hamstring complaint.

The most tackles made by Ndidi was against Newcastle United (9), while he had four each against Wolverhampton Wanderers, Bournemouth and  Tottenham Hotspur.

The Foxes number 25 recorded seven against Chelsea, Manchester United (5) and Liverpool (2).

Ifeanyi Emmanuel