KFC Uerdingen Midfielder On International Future; Akpoguma, Torunarigha Choosing Germany; Maduka Okoye
Published: October 16, 2019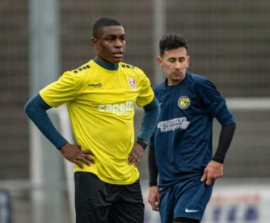 KFC Uerdingen midfielder Topmann Ugochukwu Izuwa has insisted that he is open to representing the Nigeria National Teams but will not turn down an invitation from the German Football Association to play for Germany.

Born to Nigerian parents in France, he is eligible to represent three countries namely Nigeria, Germany and France.

''Actually it is open, I love Nigeria and it is my desire to play there also but I will look for a team that I am more important to,'' said Izuwa to allnigeriasoccer.com.
''It is not about being in the national team, it is about being one of the key players in the team, playing a special role there where my services in the national team is highly needed.
''I do not have that connection to France even though I was born there, I feel a stronger connection to Nigeria and my father also taught me about my roots never to abandon them.
''It is not only because of my parents but my own desire to play for Nigeria.''

A number of players of Nigerian descent are provisionally cap-tied to Germany and Izuwa was asked why Hoffenheim's Kevin Akpoguma and Hertha BSC's Jordan Torunarigha are dilly-dallying over switching their allegiance to the Super Eagles.

''In Germany you have a lot of chances but it is not easy because here there are a lot of talents but it is not bad to play for the national team as we know Germany are one of the world leaders in football.

''The German-born players prefer playing for Germany because of the incentives,'' Izuwa said.

He concluded by saying that German-born Fortuna Düsseldorf goalkeeper Maduka Okoye, who made his international debut in Sunday's match against Brazil, will be a good addition to the Super Eagles despite lacking experience.

''I have never played against Okoye before, he is some years older than me but I have met him before.

''He is good for the Super Eagles, I mean with all the professional training he received in Germany he can take it over to Nigeria.''
Ifeanyi Emmanuel